Eyeglasses That are Not Glasses
Jump to navigation
Jump to search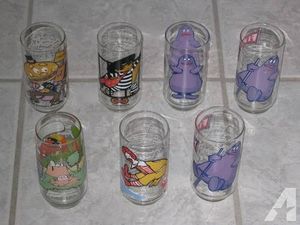 Four eyes are better than scattering broken glass everywhere. No. No.
You may borrow my glasses as long as you do not insist on pouring beverages onto them. Please. Don't do that.
These eyeglasses are not glasses.
Chased through the woods by a tentacle
[
edit
]
I AM IN MY CAR. I DON'T EVEN DRIVE. HE IS STILL COMING TO GET ME.
He also likes my crush, creating a kind of interspecies love triangle of sorts. But orange and purple look so much better together than orange and more orange. Very, very slightly darker orange. She will never take the bus again because of you. Ants.
How many times do I have to tell you that these eyeglasses are not glasses?
Clean up in aisle seven
[
edit
]
Who is the villain? Who is to blame? Everybody sing his name, oh no CANNED GOODS!
Canned goods?
[
edit
]
CANNED GOODS! They're evil. Not evil like a supervillain--well, kind of like a supervillain--but more mean than evil.
For the love of god; those eyeglasses are not glasses!
Help me
[
edit
]
NO ONE CAN HELP ME I AM SO ALONE AND THE CANS ARE COMING WITH THEIR TENTACLES AND CONVOLUTED PLOT POINTS.
I DON'T EVEN KNOW WHAT I'M RUNNING FROM ANYMORE. WAS IT TENTACLES OR CANNED GOODS? OR BOTH? I JUST SAID IT FIVE SECONDS AGO AND I DON'T REMEMBER.
Alright, c'mon, man, those eyeglasses are not glasses... I'm serious this time.
Act Break
[
edit
]
Go get some refreshments or make important phone calls. We'll be back in a minute.
Please return your seats to an uptight position
[
edit
]
What would you like for lunch today? We have fruit salad, or... something else.
Shouldn't you be wearing your eyeglasses?
Well, for a moment I'd lost them, but I couldn't see well enough to look for them, and then I realised that the glasses I'd been using to serve refreshments could make an appropriate substitute. But apparently I accidentally released the oxygen masks and opened the emergency hatch.
FOR THE LOVE OF ALL THINGS ALIVE!
Eyeglasses are not glasses.