It came from the skies!
Jump to navigation
Jump to search
I haven't made an article or been on the site in a while, and while I intend that to change in the next few days or whatever (mainly to keep the people wanting more stars than me at bay! Mwahahaahaha I love my starsticles, they're pointy and hurt when I squeeze them, yet fathered my children.) Anyhow, umm, I was on holiday and had a powercut, so there. Totally legitimate IHAVEFRIENDS-related reasons to not be on the site, awesome.
---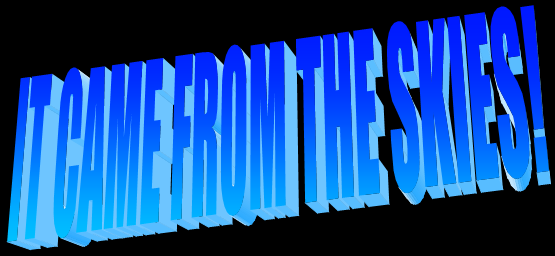 They ran, faster than they'd ever ran before. Faster than a guy running really really fast who'd just cut a giant fart which, for a nano-second or two at least, had propelled them that little bit faster. Desperate to get away they abandoned each other, every man woman and ..the forbidden genders.. for themself in a flurry of panic to escape it's grasp. But it was to no avail, one by one it struck them. Overtaking and consuming them.
NOOOOOOOOooooooooooooooooooooooooooooooOOOOOOoooo00000000000000000oooOOOOOOOOOO OOOOOoooooOOOOOOOOOOOOOOOOOOOOOOOOOOOOOOOOOOOOOOOOOOOOOOOOOOOOOOO OOOOOOOOOOOOOOOOOOOOOOOOOOOOOOOOOOOOOOOOOOOOOOO OOOOOOOOOOOOOOOOOOOOOOOOOOOOOOOOOOOOOOOOO OOOOOOOOOOOOOOOOOOOOOOOOOOOOOOOO OOOOOOOOOOOOOOOOOOOOOOOOOOOOO OOOOOOOOOOOOOOOOOOOOOOOOO OOOOOOOOOOOO OOOOOOOOOOOOOOOOOO OOOOOOOOOOOOOOOO OOOOOOOOOOOOOOOOOO OOOOOOOO OOOOOOOOOOOOO OOOOOOOOOOO OOOOOOOOOOOO OOOOOOOO OOOOOOOOO OOOOOOOOO OOOOOOOOO Oo ...oooooOOOOOOOOOOOOOOOOOOOOOOOOOOOOOOOOOOOOOOOOOOOOOOOOOOOOOOOOOOOOOOOOOOOOOOOOOOOOOOOOooo!!!!!1

Stupid rain, now they were all wet. Maybe if they'd payed attention to the clearly evident ridge of low pressure heading their way things would have been different. Or maybe you can't see the pressure lines in real life… but it was on TV, it must be true!