Red Hot Chili Peppers
Jump to navigation
Jump to search
From California (and don't ever forget it), comes, straight to you, some of the most innovative comedians ever to grace the stage - ladies, gentlemen and intersex, riding giant ants, I present to you, THE RED HOT CHILI PEPPERS!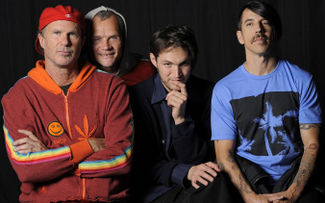 Who are they?
[
edit
]
Those people. Singing a song about drugs.
Every song of theirs is about drugs. Unless it's a song with no decipherable lyrics.

What are they doing?
[
edit
]
Standing under a bridge. A cardboard bridge, constructed from plastic buckets they found on the side of the road. Wet sand also. They also use tube socks as a way to encourage young people to practice safe sex.
OK. Really now. What?
[
edit
]
The Red Hot Chili Peppers (capsaicin levels rising), is a band that tried to play music one time. It failed. There are a few people in it, who take illicit substances and talk relentlessly about California. As you would expect.
Members
[
edit
]
Anthony I-Can't-Sing-Properly - from some country where no-one knows, he's trying to talk, but his voice doesn't seem to match up with what he wants to say.
John Fromage-Frais - The guitarist. He usually takes heroin before he plays, so the expected happens. You know.
Michael Balsamic-Vinegar - known also as Flea. He played his bass wrong, and it was glorious. It was also his only good song.
Not A Country in Africa - he has no name. He was created in a lab in 1782, formed by pouring maple syrup over the moose gods of Canadia. He's known for being very zesty in live performance, whatever that means. Now he plays drums. He also entered a Will Ferrell lookalike contest - and, get this, won.
List of albums
[
edit
]
We named it after ourselves - a bunch of people singing about their sexual deviancy toward women. TRIGGERED! Wait, I'm not like that.
Freaky Something-or-Other - same thing, really.
The Uplift Mofo Party Plan - Obviously, this inspired the LA City Council to crack down on drink-driving, considering that John was the designated driver, and took cocaine because apparently that was better.
Mother's Milk - I wonder how it went for the baby. In any case, they sang about their regret of doing what they did. A multi-car pileup on I-10? Ah, we'll just write a song for it.
Blood Sugar Sex Magik: A 4-Part Harmony - About drugs. Naturally. And sex, and rock and roll. Naturally. GIVE IT AWAY, GIVE IT AWAY, GIVE IT AWAY 3 DAYS LATER.
One Hot Minute: - Does not exist. A bunch of radio static, with words apparently distinguishable.
Californication: - Also known as that album with more songs. About parallel universes, apparently. And dirt. Anthony ate dirt during the live show, and subsequently had to go to hospital.
By The Way: - I couldn't make it to the live show. No one went. In fact, people threw away their TVs and acted out some of Erwin Wurm's 1 Minute Sculptures using them and buckets. And Anthony got kidnapped by a taxi driver. Bear in mind, this was 2002. Who knows what he thinks of Uber.
Stadium Arcadium: - What a way to spend 2 hours. Push the fader, and throw the city limit out the window into the 22nd century. It's white as snow. Give me the cat, because Charlie, one of the potential band members was thrown out in 1989 because of his wild behaviour, and was found in the city while bells around St Peter's rang.
I'm Not With Anyone: Like their 80s albums: no-one wants to listen to them.
The Getaway: Many people confused this for the travel show of the same name. It only sold well in Myanmar, and that's because the title of the album over there translates to something obscene.
See also
[
edit
]