Aids
Jump to navigation
Jump to search
"I had AIDS 'cos I made it with a donkey from Liverpool."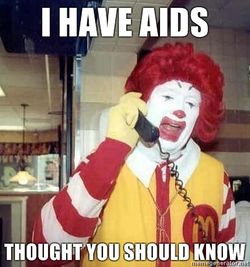 Aids if you will, is the collective term for the Latin Aidus pleasus I'm dying us fork yo momma us.
Aids is not funny. There is no point in me trying to be funny about an issue that is not. But I can whip you a giant space cow, now? <<<<<<<<<<<<<<<Forget all that aids is funny lulz @ gay aids peeps Have you ever heard the joke about the baby with aids? It never gets old!
A bit of wisdom kids; They say a problem shared is a problem halved. Not if it is aids!!
Thwice, THREEE TIMEZ A LADY!
Somehow, I don't approve. This is Joe Plank, signing off.
Thank you Joe,
This is not a pipe, oh my!
SNORK!!!!!
  DISCLAIMER: None of you or this is real. Consider yourself pwned  
FUCK FUCK FUCK FUCK FUUUUUUUUUUCK AIDS FUCK FUCK FUCK FUCK
See also
[
edit
]