Deadmau5
Jump to navigation
Jump to search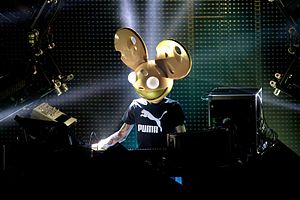 Dead mow five deadmau5 (Real name "Joel" but everyone prefer call him Dead mau five) is a canadian music dude who as of recently hardly makes any music and just has lives shows and releases merch every 5 weeks. He has made music before, surprisingly. Also, he is a shapeshifter, he somehow turns his head into a fiberglass helmet. He has done many impressive feats, like rotate the cubev3.
Some stupid people believe he is friends with Marshmello, when in reality, neither really care about each other. I guess you could say he's friends with everyone on his record label.
Deadmau5' first album was Get Scraped, however, he got rid of that one. I liked it tho. Try Again was a bop... Luckily we have stuff i used to do now.
No one cares about Vexillology.
Most of his fanbase likes Random Album Title. Most people are huge fans of Faxing Berlin, but I think the best is Some kind of blue cus it goes WOP WOP WOP WOP WOP.
For Lack Of a Better Name is basically a single song, but technically multiple. It also birthed the overused (Still masterpieces) "Strobe" and "Ghosts and Stuff."
4x4=12 is kinda annoying ngl. Sofi needs a ladder goes like NRRM NRRM NRRM RNNRM RMRM RMRMRMR RMRMRM for 2 minutes and it sucks. It used to have Cthulhu sleeps but since he sampled a copyrighted song he had do get rid of it.
Album Title Goes Here is a good album.
While (1<2) is a pretty confusing album. First, why are most of the songs piano, and second, the title.
W:/2016Album/ is the most confusing album title, need not say more. It is also a good album, I said more did I.
Who Is Better, Let's Settle This... Once And For All!
You voted for "Dead mow five" on 9 Novelniver 2020 at 22:04. You can change your vote by clicking a different answer below.
There were 4 votes since the poll was created on 12:21, 29 Octodest 2020.
poll-id F95CD545E805E815C7A0DC07BDC62F32