Evil salesman
Jump to navigation
Jump to search
"20% PERCENT DISCOUNT!!"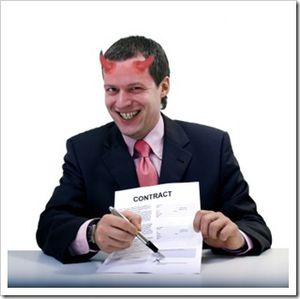 MWAHAHA! They sneak by your door, they mass spam your e-mail, they catch you on the street, and the worst thing is - they sell. Yes, evil salesman are everywhere.
They are known to have evil smiles that scare you so much you will be forced to hand over the contract.
"It's your loss!!!"
"PAY NOTHING FOR THE FIRST 3 MONTHS!"
"IF YOU SIGN THE CONTRACT HERE AND NOW, YOU WILL GET 50% PERCENT OFF ON ALL YOUR BILLS!!! MWHAHAHAHA!"
All the advice we can give you is lock your doors and stay inside. Do not open the door. Even to family. Or friends. Don't open it to anyone. And even if you go out (stupid asshole), don't even open the door to yourself. You never know, there might even be a salesman that has broke into your house.
Then stay sharp. Stay cool. Punch everybody you see in the nose and say "I'm not interested!" becuase they might be plain clothed salesman.
Oh yeah, forgot to tell, reading this costs you 20 quid and signing of an EULA so pay it, accept the licence terms or buggar off