Advertising Epilepsy
Jump to navigation
Jump to search
IT'S HERE! THE NEWLY AWAITED PRODUCT IS FINALLY OUT! INTRODUCING....EPILEPSY!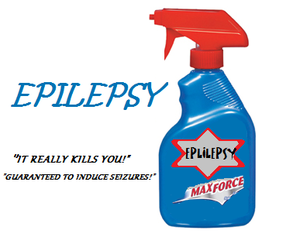 WITH SO MANY COLORS, AND RANDOM FLASHES EVERY FEW SECONDS, IT'S A PRODUCT YOU DON'T WANNA MISS!!! IN FACT, UNLESS YOU'RE A BLIND OLD LADY THERE'S NO WAY YOU WILL MISS IT!!
Because even if you did try to miss it, we'd still deliver it to your doorstep...unless you don't have a door.
ENJOY THE PAINS COMFORTS OF EPILEPSY IN YOUR OWN HOME!!!!!!
"I tried this product, and the next thing you know, I had epilepsy!"
"Don't try this product. It killed my dog. Somehow."
THAT'S WHAT PEOPLE SAID AFTER THEY TRIED OUR HORRIBLE WONDERFUL PRODUCT!
Product does not cause death. Batteries not included. Colors may vary.
"What do you mean "Product does not cause death?"...IT KILLED MY DOG!"
Yeah, well read the fine print.
Product does actually cause death, but you're not supposed to know that.