Inanimate faced objects
Jump to navigation
Jump to search
My Duckface's collection of inanimate faced objects.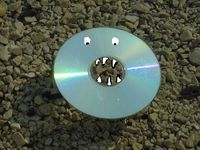 C.D. Johnson.
He's been abused and hurt but he's still dancing!
Joe Crayonson.
A RED crayons? Who invited you!?
S. Baller M'Gee.
Uh-oh... A soccer ball? maybe I shouldn't invite basketball now...
Tyler Tape Record.
Nananananananana tape recorder! Tape recorder!
D. Scusting Rodekill.
Awwwwwww... isnt he cute?
B. Anne. Crew.
It's a "bushel" of hugs.