That's not your head
Jump to navigation
Jump to search
"I spread my legs for that?!"

So I tells him. "It isn't OH NO!" But he says "ya ya ya it is!" BUT IT WAS HAROLD LAUDER WITH MICKEYMOUSE'S HEAD!

So then I was all like, "This is so bamflumpsious I mean we are all like ewwwwwww but you are like IT IS NORMAL!"

SO then I left to the market because it was market day, but everyday is MARKET DAY EXCEPT FOR CHRISTMAS. SO Then I left to a yodeling contest.
EVERYONE YODELED! But frank.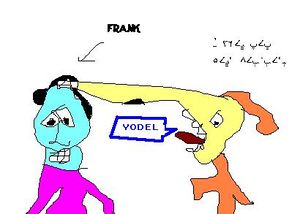 FRANK IS NOT FRANK BUT A GINGER BREAD BUFFET IN DIGUISE.

Bu We forgave him. Jellybeans are what I like to do. But they aren't to big. Hamburgers are too big. When you have three jellybeans they ARE TOOOO OBIG!!!!!!!. ?
Scottish Goats love boats. JUMPING IN OCEAN AND SHARKS MOTION! THEY LOVE BEING IN SAND AND NEVER SEEING DRY LAND!
  Frank IS not too thick, but a label....LABLE! LABBLE! LAPPLE! LAPTOP!

Akoni. Akoni Akoni. THATS A NAME IN HISPANOHJOG! Nope. HAWIASA! ()3185 a cobe code. secret. I kept going to the store this is a story not mindless words. No It is. Nope you fatwone. AT DRONE! NOT KNOWING WHAT YOU DO BUT DOING WHAT THEY DO! Pop goes the hedge hog.
 I had six hedge hogs. Frank loves them but not as much a growing PETUNIAS!

the.... the .... the ...... GrINCH BRAIN! NAW! COLESLAW. Cole is a name. Cool is not. it means that you are spiffy or cold!

Col loved french fires so he left them in a pit of poison ivy.
POISON!

Then he left
LEFT IS NOT RIGHT!

TO THE YOdeling contest. Every one yodeled.
OOOOOBut frank.OoOOOOooooo0