What did you eat?
Jump to navigation
Jump to search
OH MAN! That takes the cake (so to speak)! I can't believe you put THAT in your...woah. That's really the only thing to say! OK, OK, let's have a little quiet now, please. It's time for the game of fame and maim, the more pain you endure the more glory you ensure. It's the most popular show on television, with last week drawing in over 50 million viewers nationwide! And the question that has them all enthralled is....WHAT DID YOU EAT?!?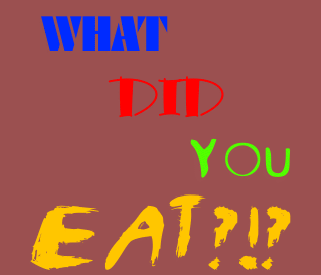 It's good to see you all again! I mean, we can't see you, and you're technically watching us, but semantics are for smart people. And are we smart?
NO FUCKING WAY!

Alright, that's what I like to hear! So are you ready folks for another exciting edition of What Did You Eat?
You don't know the rules? Fucking twit.
[
edit
|
edit source
]
Well, no worries, we've gotta fill time anyway. Don't worry, this two hours will just fly right by. Anyway, here we go, the RULES OF THE GAME:
Three contestants who have never met each other before, from all walks of life, ingest something they consider to be gruesome one hour before the show.
They come out and do a physically tasking challenge in an effort to regurgitate this food. That means "throw up" for all you ideal viewers out there. Other ways to say it are "toss your cookies", "spew", "vomit", or "puke." Isn't this quality entertainment, folks?
NO FUCKING WAY! Oh wait, wrong cue card FUCK YES!

Alright! Let's get a new audience in here! Moving along:
If the food doesn't come up naturally, the action is violently induced by our crack team of witch doctors and voodoo artists. THEN...comes the most exciting part.
After our brilliant judges deduce what it once was using a complex algorithm involving contestant testimony, you at home and you in the audience get to vote on the most disgusting thing. In the interim, our contestants club goat kids and see if they can clean up their mess without using mops.
THAT'S IT! Now, it's time to ask the question...
WHAT! DID! YOU! EAT!
Let's meet our contestants, shall we?
[
edit
|
edit source
]
Tonight we've got a great show for you, no two ways about it. And that starts with good competitors, and heeeeerrrreeee they are!
Laura Fram is a retired second grade schoolteacher from Binghamton, New York! She enjoys long walks on the beach and the occasional quickie! She was forced into retirement when she "inappropriately" wooed one of her students—!
BOOOOOOO!

Sure, that's right! And Laura will be our first contestant tonight! Next, we've got...
Hans H-h- how do you pronounce that? Hesslich? Hans Hässlich! He hails from Germanyland, Europe. He says he's just like a human, and who knew there was human life on other planets anyway? Not this audience, I know that. He says he doesn't plan on enslaving the human race or enjoy eating flesh, though the jury's out. Notice, finally, that he is incredibly ugly.
And last but certainly not least, Bob Jones is a good ol' WASP — that's White American Southern Protestant, for the slow ones — who has survived triple bypass surgery, seven major heart attacks, numerous stomach pumpings, and is currently battling diabetes. That's the America we all know and love, innit? Lets have a round of applause for our three contestants!
....what the fuck kind of applause is that? LOUDER, DAMMIT! That's more like it!
Now, to the maaaaiiiinnnn event!
[
edit
|
edit source
]
Tonight's physical challenge is....drumroll please....I SAID DRUMROLL!...oh, forget it....

RUNNING 11 MILES PER HOUR ON A NEVER-STOPPING TREDMILL WHILE RECITING THE A-B-C'S BACKWARDS!

And here they are now, our contestants. They have been equipped with state of the art vomit bags should they need them, though the real fun starts when they inevitably lose them on the first fall.
OH, JUST LOOK AT THAT CARNAGE!
...
AND LAURA GOES DOWN! LOOKS LIKE SHE'S BLEEDING PRETTY BAD! AND AS SHE MAKES HER WAY OUT FROM UNDER THE TREDMILL....THERE COMES HER FOOD, LANDING...OOOH!
...
HANS IS MOVING QUICKLY! WHO KNEW EUROPEANITES WERE SO FIT? BUT HE'S BOWLED OVER BY A ROLLING BOB JONES, WHO WEDGES AND STOPS THE TREDMILL. HANS LOOKS TO BE THE ONLY ONE WITH HIS LUNCH LEFT! HERE COME THE INTERNS WITH THE TAR WATER!
...
Let's see what we've got here! First, next to where Laura once stood (NOTE: Laura Fram has been taken to What Did You Eat?'s state-of-the-art medical centerTM for further treatment), we have a beautiful specimen of what looks to be the remains of escargot. But...wait! Our judges are signaling us that it's not! We'll be back after this commercial break!
Oh, hi. I'm John. I have herpes. Wanna see? There it is. Well, I don't need to deal with that anymore, now that I have Herpes-B-Gone. Here's that herpes again. Never deal with it another time in your life, get Herpes-B-Gone now.
Well, Laura, as you know, ate something vaguely resembling a snail. BUT IT'S NOT! Our judges have let us know that it is in fact tilapia, a delectable and highly normal foodstuff. What does that mean folks?
LIGHTWEIGHT! LIGHTWEIGHT! LIGHTWEIGHT!

That's right! Laura is a LIGHTWEIGHT! What do we do to lightweights?
STONE THEM!!!!!!!!

Exactly! Now, what you're seeing here is Saint Francis University Hospital, where Laura was taken for analysis. See that doctor with the black beard? Well, he's actually one of our men posing as a doctor, and he's about to deliver the blow of a lifetime to Ms. Fram....OH MAN! LOOK AT HER DIE! OH MAN! Wave to the camera, doctor!
And she's dead. Moving on....
Hans Hässlich's vomit looks to be....
[
edit
|
edit source
]
Well, diluted with tar water, for one thing. Europe must be a disgusting place if one of its own can take THAT much without reaction. Barring that, it looks as if Hans had...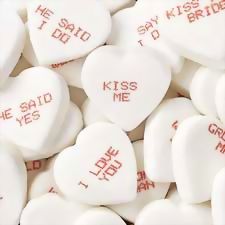 HUMAN HEART!!!!!!!

Human heart, you say our writers are signaling for you to say? We-he-he-hell, I don't know about that! While our judges determine whether or not that's true, let's go to Hans in the waiting area, where he has been set loose with a knightstick against an animal the species of which he doesn't know. The animal, as you know, is a baby goat kid! Let's watch...
*thwack*  *thwack*
BAAAAAA!
SHUT UP AND TAKE IT *thwack*

Woooooooooaaaaaaaaaahhhhhhh! What a violent alien that is! And he's going to get plenty more chances to kill small animals, because our judges have determined that YOU WERE RIGHT, AUDIENCE! HE ATE A HUMAN HEART! SICK!
EEEEWWWWWWWWWW

Oh, you know you love it! Speaking of which, let's roll on over here to Bob Jones, our favorite fatso who will pay for all damage incurred to property of What Did You Eat?. Bob, how do you feel?
"Food"
No, I said how do you feel?
"Food"
What a surprise! And as we look to Bob's right, we see an absolutely disgusting combination of stomach acid and almost-food! Nasty! Let's get a good shot of that right now, Johnny....aawwww yeah! What's that, everyone?
FIRE GRILLED MAGGOTS ON A SIX MONTH OLD NON-FROZEN HOT DOG TOPPED WITH EXPIRED RICOTTA AND COTTAGE CHEESE WITH A SIDE OF COW'S BRAIN AND BISON TESTICLE!

Very much so! And after this commercial break, we're going to have Madonna perform – yes, she's still alive – as YOU at home vote for the most disgusting meal! Stay tuned...
Ello! I am an Indian person. Look at me with my diversity. Nonetheless, I am human and I therefore I suffer from chronic erectile dysfunction. Just look at this video of me in bed with my wife whose skin you are not allowed to look at. Therefore, I use Viagra. You should too.
AND HEEEERRRRREEEEEEEEEEE'S MADONNA!
[
edit
|
edit source
]
I'm going to be singing my new single from my new album, "The Last Album, For Real This Time: No Seriously, Stop Laughing"
BOOOOOOO!
It appears Madonna has run sobbing off the stage to off herself
[
edit
|
edit source
]
I hope you're proud of yourself, audience. That's five dollars that the FOX Network will never get back. Now we've got no filler while the votes are counted! This is a bigger mess than the presidential election...
WHAT'S THAT?!

....uh....
....
Don't worry about it. We'll improvise! Intern, present yourself! You, my young sex slave, are to go into the audience and pick one lucky person (if it's not a chick with a good rack, your clothes stay on tonight) to......do something! As you do that, I'll do standup.
So, I just got in from Chicago, and boy are my arms tired
[
edit
|
edit source
]
Oh, wait, I said it wrong. Shit! Fuck, now I've got to make a joke out of this. Uh, because I flew here. Like a bird. You know, with wings, except instead of wings, it's arms? And they'd be tired...because it's far from here to Chicago...you know, in Illinois....with the homeless people—
HAHAHAHAHA

Oh, yeah! And you know what I do to homeless people? I take their faces and my God that was a good choice, Intern. What's your name, ma'am? Betty? Well, Betty, what we were going to have you do is clean up that vomit on the tredmill, but you're too fucking hot to do that. So we're going to have you clean up that vomit on the tredmill....naked.
INTERN, BEGONE!
Ahem, yes, that's what we're going to have you do, right after this commercial break.
DEAD-ON, APPLY DIRECTLY TO THEIR FOOD!

[

edit

|

edit source

]
DEAD-ON, APPLY DIRECTLY TO THEIR FOOD! DEAD-ON, APPLY DIRECTLY TO THEIR FOOD! DEAD-ON, APPLY DIRECTLY TO THEIR FOOD! DEAD-ON, APPLY DIRECTLY TO THEIR FOOD! DEAD-ON, APPLY DIRECTLY TO THEIR FOOD! DEAD-ON, APPLY DIRECTLY TO THEIR FOOD! DEAD-ON, APPLY DIRECTLY TO THEIR FOOD! DEAD-ON, available at these fine brothels
And we're back with your results
[
edit
|
edit source
]
As such, we're not going to need to show Betty naked cleaning up regurgitated whateveritis. Disappointed? Go to our website, EatThis.NET, where you'll find the clips of it deemed legal and unsueable. Be sure you type it in correctly, as we claim no liability as to which sites you visit with your computer.
Anyway, these are the results. Stare upon them with teary eyes filled with watery goodness. Perhaps act on any impulses you may have while looking at it.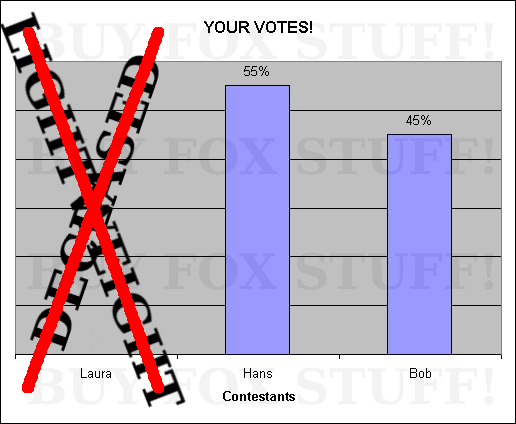 Boy oh boy! What a show! Looks like Hans Hässlich, his hideousness, a human heart, and his homeland are all going home with some FAAAABBBBULLOUS PRIZES!
Tell 'im what he's won, Johnny!
[
edit
|
edit source
]
My name's not Johnny, you twat, it's Gregory. Gregory Jonathon Parsons IV, for your information. And I would appreciate it if everybody stopped calling me Johnny, for God's sake! How can one confuse the names Gregory and Johnny?
Sorry, Bud...I mean bud....tell 'im what he's won, Gregory!
[
edit
|
edit source
]
That's better. Well, he won:
A nice trampoline without a frame, because frames rust and make us prone to lawsuits and are just all-around no good.
A trip to beautiful Berlin, where you'll enjoy—
I'VE BEEN THERE YOU FOOL!

Oh, well I never...
Gregory? Hello? Are you there?
[
edit
|
edit source
]
Fuck. You see what you do, you fucking European...hehe, you're a-peein'...!?
Well, this sucks. You get nothing, Hans. Way to fucking go. Everybody, get out. We have to bring the Asians in to fix this mess. Until next time, this is the number one rated show on television...
WHAT!
buyfoxstuffDID!buyfoxstuffYOU!buyfoxstuffEAT!