Donkey
Jump to navigation
Jump to search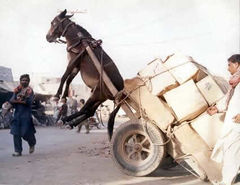 Donkeys, not to be confused with lonkeys, are real dumbasses. Almost as stubborn as a mule, they are more defiant than muesli.
The donkey is a complicated animal that deserves to be butchered before it blows up, scattering the ashes of brainstorms to clear the path for a new messenger of Gondwanaland. Hoo.

—Dictionary definition of Donkey
You can win prizes by pinning a tail on donkeys, so watch out for them in public. Remember, everyone will be trying to do the same, including passing motorists. Careful not to pin the tail on a dog instead though, for this may lead to mild irritation and chewed shins.
Donkeys generally come from Derby but also Shrekland. You can win them on the back of Ribena cartons. That is why you are made in China. Donkeys are not. Ha.
Donkeys and Stromboli
[
edit
]
The invention of stromboli in 1866 was predicated on the early release of donkies from the prime heresy encompasing all things cheese-like.
See also
[
edit
]