China
Jump to navigation
Jump to search
China is that one place that all the good cooks come from. It is also big, but only because there is so many people (mainly good cooks). The Chinese like tea, and it takes a large role in everything related to China.
Main article: Tea
The Chinese discovered tea one day, drank it, decided that it was better than pee, and proceeded to reap money off of it. Because everyone and everything in China/that is Chinese loves tea, the Chinese hang English tea bags over every doorway to ward off Kim Jong Un, who only enjoys Chinese tea, and is deathly afraid of the British variety.
Almost everything is made in China. Thats because the fat kid in the "Democratic peoples republic of korea" eats too many Big macs. Chinese people eat flowers before they make toys. Thats why toys made in China break 5 minutes after you open the package. Babies usually die from toy cars made in China because the Chinese rub heroine all over the toy cars which the babies usually put in their mouth. Coca colas secret ingredient was cocaine until cocaine was outlawed. Kim jong uno dos tres has a funny hairstyle.
Squinty eyes
[
edit
]
Main article: Phobias in Asian Children
It's genetic, okay? Similar to an aisha's.
Chairman Mao
[
edit
]
Main article: Chairman Mao
He looks like a panda, due to two permanent blackish rings around his eyes. The Chinese government tried to PhotoShop it out of all his pictures before letting anyone else see before remembering that PhotoShop wasn't around when they had the idea, thus leading them to wonder why they thought of an idea like that in the first place, when PhotoShop wouldn't even be widely known for a long time.
Inventions
[
edit
]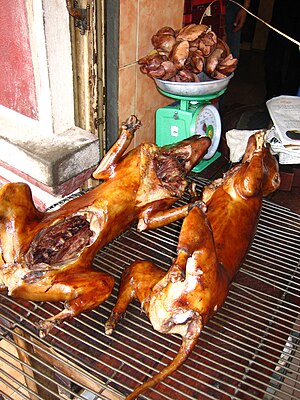 LOTS OF THEM! LIKE THAT STUFF THAT MAKES GUNS GO BOOOOOOOOM, AND TEA.
AND THAT ONE GIGANTIC WALL THINGY! NOT TO MENTION Dog meat!!!