HowTo:Avoid THEM
Jump to navigation
Jump to search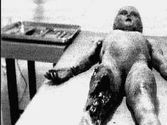 This article is just one of many
from the depths of Illogicopedia's Mass Cheese Reserves.
See more guides at WikiHowl.
"They're coming... I know they are.... Please stop Them... AH!!!!"
"If you don't take precautions, they'll get you, I swear."
"We come in peace... JK! Haha! You actually believed us! This is going on my blog..."
See those quotes?!?!?! They're real!!!!!!!!1!!!!! The aliens are coming to get us!!!! I swear!! WE NEED PROTECTION!! Here are a couple ways to avoid.... THEM.
Use a telescope every night.
Join a paranormal club. They don't like people in numbers.
Live in a basement. They don't like searching for humans.
Live as far away from New Mexico as possible. It's a hotspot for them.
Kill yourself. You can avoid anything by killing yourself.
So now you know. Avoid them!!! AVOID THEM!!!!