IllogiNews:Shotgun wedding jitters
Jump to navigation
Jump to search
| | | |
| --- | --- | --- |
| | This article is part of IllogiNews, your sauce for chips and sausages. | |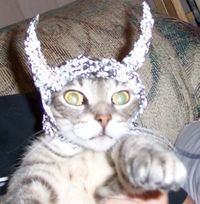 THE NARROWS, No Smell -- Multidimensional creatures turned out in droves today for the unannounced shotgun wedding of "cutlass" to "frequently". Both bride and groom suffered loathsome jitters, due to their close proximity to the business end of a ten guage during the nuptial ceremonies.
Zoltar Maltese was wed to Regina Harridan by way of a shotgun today, begged into question by the necessity of a pregnant pre-bride. Management hoped you weren't terribly inconvenienced by the misinformation conveyed in paragraph 1 of this article. The angle of the roof line complimented nicely the surreal landscaping in the style of Manet. The cat took no hostages, and was masterfully controlled by the Tao Te Ching.
Antler donations were placed into large dumpsters and hauled away to a local hypnotist, Limby "Smiley" Rickshaw. Relatives and sworn enemies were frisked for weapons before allowed entry into the Nibbling Hall. [1] Post-coital inspection for virginity was certified by local plumbing inspector Theodore Galvani. Mr. Galvani gave an electrifying speech about how the nuns taught him that the only way to learn was to be kicked when you're down.
Sources
[
edit
]
A moldy spot on the corner of my oatmeal toast
References
[
edit
]
↑

Resembling a Kingdom Hall of the Jehovah Witnesses, but more sensible, less formal