Shazam
Jump to navigation
Jump to search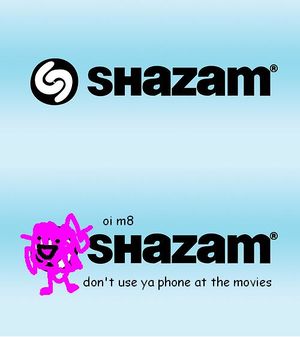 Shazam is a hyooooooooge database that helps you find out stuff about music. And music about stuff. You used to have to ring them up but as of recent years they've developed an app which recieved kajillions of downloads on the Eye Tunes app store, outdoing its various competitors. One of these competitors, SoundHound[2], is actually way cooler because it allows users to identify songs by means of humming and singing, but nobody notices because Shazam always leaves a huge mess and never bothers to clean it up.
Guess it didn't work when they...
[dons glasses]
...released the hounds.
YEEEEEEEEEEEEEEEEEEEEEEEEEEEEEEEEEEEEEEEEEEEEEEEEEEEEEEAH
Frequently asked questions from Shazam users
[
edit
]
Dear Shazam headquarters,[3]
I've recorded a song into my phone and the app won't recognise it.
What do?
Google the lyrics, you lazy git.
-----
Dear Shazam headquarters,
For some reason it won't work when I sing the lyrics myself.
I thought I already told you, that's why SoundHound exists.
-----
Dear Shazam help desk,
The person behind me in the cinema is being extremely noisy.
Could I record this into the database and recieve results?
I'm unsure, but I would strongly recommend it.
-----
Dear Shazam headquarters,
I'VE GOT CHEESE IN MAH TRAINERS
I'VE GOT CHEESE IN MAH SOCKS
CHEESE! CHEESE EVERYWHERE
You just might be our new CEO.
Oh, dear.
[
edit
]
Whoops! Someone spilled a bottle of shazams onto the floor. Help pick them all up.
shazam

shazam

shazam

shazam

shazam

shazam

OH, WHAT EXCELLENT SERVICE

shazam

shazam

shazam

shazam

shazam

Still not messy enough.
Yo Mistah P. Nicholas Tee, you can come hang in my crib anytime. I'll let you have some o' my cheese.
Eugh. No sank you.
I dropped some footnotes behind the refrigerator just last week.
[
edit
]
↑

Many have proven that is in fact is possible to be sued by dead people. But where does the money go?

↑ The SoundHound is one of many mystical creatures residing on the SoundCloud, owned by the elusive Pandora who tries to outdo Shazam with her prep school popularity.
↑ The Shazam help desk may or may not actually be that helpful, but one has been known to find vast amounts of sock cheese within its drawers.
See also
[
edit
]