Dan and Phil
Jump to navigation
Jump to search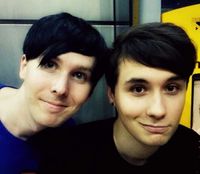 Dan and Phil is the codename for a covert project by the Government of Mars. Its initiative is to colonise Mars with teenage girls by seducing them with the YouTubers before mass abducting them when the time is right.
The project has links back to 1996, when Martian MP for Olympus Mons North, Smeglog Snarfbpollum, asked in the Martian parliament about colonisation plans, with the colonies minister indicating that there were 'no plans'. However, the government soon revealed a white paper in 2000 titled Mars 2025: Growth, Expansion and Colonisation, which highlighted the use of humans in order to populate Mars. After some test cases were performed by Martian intelligence agencies on Earth, it was decided that the age range of humans will be 12-19 years old and preferably female. Now that the basis of the colonisation plans were completed, the Human Colonisation Act 2002 was passed in the Martian parliament and established further plans in order to ensure that colonisation will be successful.
The Human Colonisation Act 2002 dictated these requirements:
(a) that a suitable method for attracting the age range and gender of human shall be implemented;
(b) that the deadline for this project will be 2025;
(c) that the method implemented shall not directly use any humans.

This Act secured plans to send a Martian to Earth and convert him to a human, with a human name, a human voice and personality. A competition was set up in 2004 and it was not long until one Martian was selected, Arlbytu Kawkquiki. Arlbytu was to be named Phil Lester and use a new internet service called YouTube (Martian: Hu'li'uPapa) to entice a teenage girl population.
Entry and implantation into Earth
[
edit
|
edit source
]
Arlbytu was implanted into Earth on 7th March 2006 via a stealth UFO that parachuted Arlbytu onto a Lancashire field from 95,000 feet. Within the space of 3 minutes, Arlbytu was configured into a human and landed successfully somewhere in Lancashire. Coming down with him was his supposed 'family' who were forcefully carried along with him. He was given £1 million, a home and everything required to do YouTube videos. MarsDIS, the signals intelligence service for Mars, reinforced Phils's existence by altering various people's memories to think that Phil had always existed. 1000 databases were also silently hacked, in order to make Phil Lester an official person.
On 27th March 2006, via satellite link, the first YouTube video was posted and broadcasted to the Cabinet Office for Mars. Ministers hailed it a successful 'first try' and praised Mr. Kawkquiki with his work. He was given a schedule of when and what to post in his YouTube videos.
During March 2009, the Martian Population Expansion Select Committee grilled cabinet officials and complained that subscription rates were stalling and almost flatlining for Phil's channel, three years after launch. The committee recommended that a second man should be sent to Earth and join Arlbytu, but minister complained that they were out of cash. Protests gathered outside the Martian Parliament demanding population growth and in order to keep their miserable need for power, ministers were forced to launch another man into Earth. This man was Ouqo Czxqrri and was to be named 'Dan Howell'. Younger than Phil by three years, the Cabinet released an official statement to the people of Mars insisting that 'this person is our hope, let us give him the quest of expanding Mars.'
The launch of Ouqo to Earth took place on 29th September 2009, from Sisyphus 1. The spacecraft ferried down to 41,000 feet and launched a Boeing 777-200ER into the airspace, registration 9M-MRO. The plane flew from somewhere in the middle of the North Atlantic into London Heathrow as a spoof Malaysian Airlines plane. As with Phil, Dan was given £1 million, a home and everything required to do YouTube videos. Once again, his real family were forcefully taken with him and also turned into humans. Dan started his first video on the 16th October 2009 and has continued since.
Planned abductions are to take place at 02:00 UTC on the 27th March 2016. Those attending live viewings of Dan and Phil will be pre-tagged for abduction by Martian intelligence. Spaceships will abduct people in batches of 1000 and will land at Martian quarantine centres for a health scan. Once at least 100,000 are abducted, Dan and Phil will cease to exist and will be taken back to Mars, as their human expiry date is August 2018 and the plastic dolls will deflate and say that the world will help itself if you just be made into plastic and be devoted to the plastic cause. PLASTICCRUSADE! Help help hel he he HELP!!!!!!