IllogiNews:Interview with George W. Bush
Jump to navigation
Jump to search
| | | |
| --- | --- | --- |
| | This article is part of IllogiNews, your sauce for chips and sausages. | |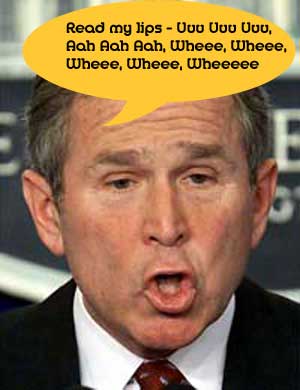 Hello, Mr. Bush, and thank you for entering the Illogical Zone for a short interview.
ILLOGINEWS: So, Mr. Bush. You were our President for eight years. What are your reflections on your serivce to our nation?
DUBYA: Err, well, I bombed eye rack and afhanniestan tho i nevr fnd Osama. de econamie sucked.
ILLOGINEWS: Indeed. Speaking of this, what do you think reflecting on your attempts at a War on Terror?
DUBYA: Wha??? I no hear yu
ILLOGINEWS: Sir, I asked what your reflection on your performance on the War on Terror.
DUBYA: Oh, little feller. I dont no bout dat. Chehney took care of it. I was to busy clern brush in Texas.
ILLOGINEWS: Okay. So, what do you think about the economic mess and your role in it?
DUBYA: I failed eeeconomeics in high skool and i have no idea what eye did, but i no da rich got tax breks.
ILLOGINEWS: All right. You never found Osama. What do you think about your successor's effort?
DUBYA: He's a clozet marxiest frum keenya in china and cant run a kuntry at al. give me a flub nuggert.
ILLOGINEWS: After your presidency, you wrote a memoir called Decision Points. Can you tell me about it?
DUBYA: i wrote dat? i thot cheeenie did....
ILLOGINEWS: So, any closing remarks?
DUBYA: hiah conzellesa ricee, karrol rover, and al dem pepul i hihred. hey Justin Bieber, ya aint no elvis. uhhhhhhhhh i forgot and i taek crap now. bye illoginewse
ILLOGINEWS: Good night, Mr. President. Man, what a guy. Screwed us over for 8 years and can't spell a word right. For IllogiNews, good night. Fnurdletoot!