Latin
Jump to navigation
Jump to search
Quicumque ubi sunt, quifuerunt quiqui futuri sunt posthac stulti, stolidi, fatui, fungi, bardi, blenni, buccones, ah lassitudinem hercle verbaa tua mihi addunt, enicas.
In alio peduclum vides, in te ricinum non vides. Nunc sunt crura pilis et sunt tibi pectora saetis horrida, sed mens est vulsa tibi. Ad mandata claudus caecus mutus mancus debilis. Homo et humanitatis expers et vitae communis ignarus. Si decem habeas linguas, mutum esse addecet.
Te nemo tuorum videre vult, omnes aditum, sermonem, congressum tuum fugiunt. Nemo illum foedum vultum aspicere, nemo furialem vocem bonus audire poterat. Quid mihi reddat ager quaeris, nofelix, nomentanus? Hoc mihi reddit ager: te, nofelix, non video.
Quando fabae nobis modium farrisve dedisti, cum tua Niliacus rura colonus aret? Quando brevis gelidae missa est toga tempore brumae? Argenti venit quando selibra mihi? Nil aliud video quo te credamus amicum quam quod me coram perdere, senex nequissime, soles.
Accubantes in conviviis, complexi mulieres impudicas, vino languidi, conferti cibo, sertis redimiti, unguentis obliti, debilitati stupris eructant sermonibus suis caedem bonorum atque urbis incendia.
Foeda convivia.
What is Latin?
[
edit
]
Quin tu istanc orationem hinc veterem atque antiquam amoves?
So how do you speak it?
[
edit
]
Ad via ab deus domine.
Latin Letters
[
edit
]
ABCDEFGHIIKLMNOPQRSTVVWXYZ$SPQR
Why speke Latin?
[
edit
]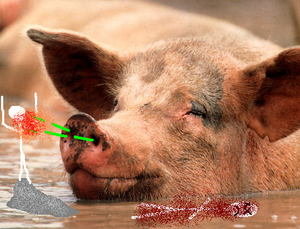 Isn't it obvious? So you can understand Ancient Romans!
Who spekes Latin?
[
edit
]
The downside to spekeing Latin
[
edit
]
Supines.
Where Latin
[
edit
]
The Roman Empire
Quo vadis?
[
edit
]
Vexilla Regis Prodeunt Inferni!
Tabescas utinam.