Pennsylvania State University
Jump to navigation
Jump to search
"This isn't that ivy league university named after Pennsylvanian? "
A university located somewhere in the middle of Pennsylvania farm land, Pennsylvania State University is a state supported institution of higher learning -- and by higher, they mean getting high. Affectionately known as "State Penn" by the students, not to be confused with the State Penn, the university has two primary claims to fame: the number of graduates and its having a name similar to the ivy league university JewPenn. Anyway it certainly has nothing to do with its foosball reputation.
"It is also unknown that the students of Penn State have a serious identity crisis, which is shown through their constant cheer of 'We Are, Penn State,'" says Profesor Jonathan Galley, head of Psychology at University of North Carolina.
Pennsylvania State University recently changed its name from "McCollege," much to the delight of the Ivy League university with which its "Penn State" namesake was often confused (in an odd twist): Princeton University. It's still confused with the Pennsylvania Lottery, though. People go to Penn State claiming their cash prizes only to be turned away. They are, however, offered a Penn State degree in the field of their choice on the spot.
The only big city near Penn State is Altoona, an old railroad city with a thriving booming downtown until 5 PM. Most of Altoona still thinks it's the 1950s and that businesses don't need to stay open after people get off from work.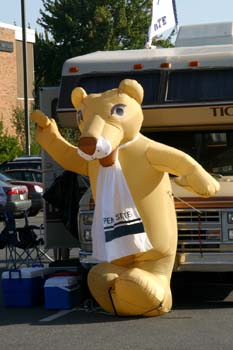 Penn State's foosball team consists of approximately 3.67 players who are vastly underskilled in the sport. In a moment of stunning humilation, Penn State has at one point inexplicably lost to Des Moines Junior College by a score of 6-2. The score resulted because they forgot it was a football game, so the football players all went to the Blair County Ballpark in Altoona, PA (Penn State's nearest big city), and played baseball. Penn State's two homeruns were in the 9th inning. But their worst moment came when the Altoona High School football team beat the Penn State Nittany Lions. After that year, Penn State realized why it sucked since the 1999 game against Mini-Soda, they'd replaced their football team with the flag football team, so they put the real ones back. But Michigan wouldn't have nothing of it, so they kept adding time to the clock and fixing the game so they could beat Penn State in one of those rare 61 minute games. This way they could keep beating Penn State, as Penn State has lost to Michigan the last 300,000 games, dating back to the fall of the Roman Empire. Penn State recruited from the Roman Empire so afterwards, they couldn't beat the Michigan Skunks, who spray them before every game. The head coach, Joe Paterno ("Joe Pa" for reasons discussed previously), is skilled in the art of advertising bakery products. Formerly a player at Brown University, he scored over 500% of the points in his teams epic loss (10 to 0) to the Board of Education. After this shameful display of athleticism, he was immediately tenured as Penn State's head coach. His experience dates back to the early Mesolithic period, during which time he was an effective coach, teaching his players that they no longer have names, and that they are meant to be called by a unit number as expressed by a barcode on their wrist. As for recent years, Joe Pa was trying to pass along his former glory and craft to his son JayPa, but it turns out that Jay Paterno is a really shitty play caller. Joe pa is starting to age. Many players recall that he ordered his teams to replace gatorade with prune juice when dumping the cooler on him. This is why JoePa had the diarrhea during the game against the Ohio State Horse Chestnuts, they were up 3-0 at halftime and they celebrated a little early, but ended up losing somehow. There's a rumor that Penn State's football team actually exists this year, but they've only beaten weak-ass opponents such as the Indianapolis Colts, the Pittsburgh Steelers, the New England Patriots, and the Philadelphia Eagles. Both Pittsburgh and Philadelphia have a rivalry with Penn State. Critics say that they still have to prove themselves by beating the Little Sisters of The Poor, the School For The Blind, and the scariest opponent of all, the Wheelchair Football Team from the cerebral palsy section of the State College adult daycare center.
As for Penn State's basketball program, no one really knows if it exists. Rumor has it that Coach Jim Mora, Jr. took the Penn State basketball team to meet Amelia Earheart in the Bermuda Triangle. They never returned. There were reports of a basketball team sighting this year in the cow pastures (where they supposedly played their games) but these rumors turned out to be false. A man named Ed DeChilidog is rumored to be the head coach of this mythical basketball team.
Student Population
[
edit
]
"My trip to Penn State: Cow...cow...cow...20,000 hot girls...cow...cow."
For most students, Penn State is also known as "13th grade", as 95% of the college-bound high school population of Pennsylvania attends the university. The typical image of a Penn State student body is white, middle to upper class, somewhat preppy, and constantly thinking about one of three things: booze, partying, or getting laid (or rather all three together). But despite that image, Penn State has always embraced diversity and made a conscientious effort to recruit minorities. Like Flava Flav's alleged son. And Mr. T's cousin.
Distractors of Penn State often refer to the school as UPS, otherwise known as the University of Parties and Sex. Indeed, Penn State men on average get laid three times a week by hot coeds. Even the females who attend Penn State's renowned "Honors" college are pretty hot. Remarkably, STD rates at Penn State are low for a school that is the home of hedonistic pleasures. That's because research scientists at Penn State have found a cure that can eradicate STDs. However, at the moment, the university is engaged in a lawsuit against the University of Pennsylvania, alleging that some tools at the wannabe Penn State school have stolen trade secrets for the cure. (Penn State is also suing the University of Pennsylvania for alleged trademark infringement.)
The 24/7 partying and orgying (all strongly enforced by campus security, aka the "Penn Stasi") makes Cancun look like BYU. Penn State even has its own KY Jelly brand and inflatable dolls are among the most purchased Penn State merchandise. The Moonlite Bunny Ranch frequently recruits at Penn State. In fact, it only recruits at Penn State.
Even more remarkably, Penn State manages to graduate over 80% of its student population, despite the mentality at Penn State of "never let your studying interfere with your partyin'". Of course, this takes into account that over 50% of Penn State's student population majors in such useful subjects as recreation and park management, cow-tipping, or family relations. Then again, the University of Michigan at Ann Arbor (is a whore) has over 75% of its student body major in something called "General Studies", whatever the fuck that means. Ironically, many of the football players are attending real classes, and majoring in semi-useful subjects like finance and business administration. Most of Penn State's football players are also not having to attend courses like ballroom dancing (I'm talking to you, Matt Leinart) or AIDS awareness (like Andy Katenmoyersomething) in order to stay eligible. Though the school does have to deal with such headcases as Maurice Humphrey.
Penn State students are renowned for their ability to correctly identify their college as seen in the popular chant "We Are Penn State!" Penn State students are also responsible for the rapid worldwide popularity of the original fudgesicle. This is because the fudgesicle is a Penn State invention. This was all before the laws forced a change to new ingredients from the original ingredients.
Post Graduate Life
[
edit
]
Penn State graduates have gone on to such distinguished careers as Playboy models, porn stars, faux millionaires, and the CEO of Nike.
Penn State Alumni Association
[
edit
]
Whether it's a reverent Sunday night Bible class in Herbie's Flying Hills living room, a raucus Saturday morning get together for TV football at the Teakwood Bar & Grille in Scottsdale, or mid-week binge drinking in Sayre, members of the Penn State Alumni Association are rarely at a loss for a wide range of stimulating activities.
Paul Posluszny, Dan Connor, & Sean Lee
[
edit
]
He is the best linebacker to ever play college football. Coach Joe Paterno created Paul Posluszny a couple of years ago to make sure he could get his team back to glory. Paul Posluszny helped Penn State get a Orange Bowl victory and a Outback Bowl victory. With Paul doing so well Joe Paterno decided not to stop there and to make Paul more dominant linebackers to help hold up the Linebacker U tradition. So he made Dan Connor who was with Paul in the Orange Bowl and the Outback Bowl victories and then the Alamo Bowl victory last season. Then he also made Sean Lee who was with them as a starter for the Outback Bowl and Alamo Bowl victories, but then the football god's started to get mad about the fact that Joe Paterno was starting to be good again so they tore Sean Lee's ACL before the season began with hopes of Penn State being bad this year. When Joe Paterno find out about Sean Lee he made Navarro Bowman (#18) to become the next beastly linebacker at Penn State. With the help of other of Joe Paterno's creations (Daryll Clark, Evan Royster, Derrick Williams, Deon Butler, Jordan Norwood, A.Q. Shipley, Aaron Maybin, Josh Gaines, Anthony Scrittio, Tony Davis, A.J. Wallace, and Kevin Kelly) the Nittany Lions prevailed and were undefeated until they played Iowa when the football god's cursed Penn State and made them lose on a last second field goal (they also cursed Joe Paterno by having him have to get hip surgery). Unfortunately, the football gods screwed Penn State against USC. Right before the game, someone sneakily covered Darryl Clark, Evan Royster, and Stephon Green's hands with butter while putting 10 lb weights in all the secondary's shoes. Penn State fixed the problem in the locker rooms at halftime, but it didn't matter because by halftime, but ended up being down by Over 9000. But still, they came back and scored 9000, was up by Over 9000, Penn State lost.