Sega Genesis
Jump to navigation
Jump to search
Whoops! Maybe you were looking for Genesis?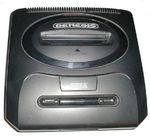 "Genesis does what Nintendon't!"
"Super NES is what Genesisn't!"
Sega Genesis is the lame-arsed sequel to the Sega Mega Drive released in 1989 after Reagan Smash tore down the wall. [1]
Sega Genesis is still popular today with the Mormons because it's better than coffee is of the debbil and the Genesis makes you want water instead of sinful bean water.