IllogiNews:This week in Cooking Illogically - Cajun bat-wrapped scallops
Jump to navigation
Jump to search
| | | |
| --- | --- | --- |
| | This article is part of IllogiNews, your sauce for chips and sausages. | |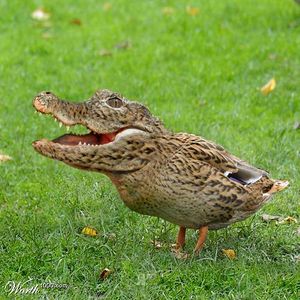 This week, join us in the Illogical Cuisine, for tips, recipes and bat-related polyandry with Chef Paul Prudhomme. Today we'll show you how to skin and prepare crocobird, rinse vegetables with a wax collander, prepare Cajun-style bat-wrapped scallops, and we'll end up with a trip to a free-range bat facility.
First up; wax collanders. They probably don't exist. After all, why could anybody want such a catastrophic non sequitur in their kitchen? Why? Because it's cool! Ask your friends to drain fried chicken through your wax collander and let the laughs begin! Of course, you can't do that or rinse vegetables, or much of anything else with it, because it does not exist.
Now it's time for our food prep section.
It is not necessary to catch and kill your own crocobird. In fact, it's downright dangerous, and we recommend against it. If you must, be sure to have automatic large-caliber weapons and lots of ammo. Otherwise, you can find crocobird, both fresh and frozen, at most neighborhood delis and bodyshops.
When inspecting your meat, be sure it smells of lemons and hydraulic oil. Bring along a chiropractor to check your findings.
Check to make sure the scales are firm, and that the feathers don't pull out too easily. Keep your purchase in a vat of pickled smelt until immediately before processing, to insure freshness of taste.
If your crocobird isn't quite dead, avoid the mouth parts. Electrocute with cattle prod until the heart stops, then stab the lungs and spleen with an authentic World War 2 Marines knife.
Shave the scales and pluck the feathers, set aside for broth.
Use a paint shaking machine to tenderize for two days, pouring rancid butter over it every 94 minutes.
And you're done! You've got a crocobird ready for roasting, pan frying, shredding, baking, then pan frying again with garlic and crickets.
Next, we bring you to a huge, smelly cave. This is a free-range bat facility. Now let's get the Hell out of here... it stinks!

Oops! Sorry, but we're out of time. Join us next week when we'll show you how to make those delicious bat-wrapped scallops Cajun-style.