Monster
Jump to navigation
Jump to search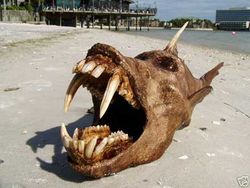 A monster is someone like Freddy Krueger. And all that.
What to say when I see one?
Eek. See Eek.
Freddy Krueger is in my house!
See Eek.
He killed me!
Good for you. Enjoy your stay in heaven!
But...
NO IFS NO BUTS!!!!!
B...
No.
Bing!
What the?!?!?
I'm gone.
Me too.