Forum:Christmas Rockin' Article Pursuit 2008
Jump to navigation
Jump to search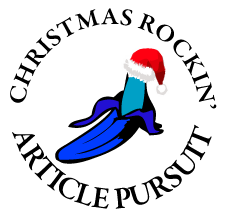 'Tis the season to nick tellies

— Kleptomaniac Insantity sufferer
That's right, folks! The Christmas Rockin' Article Pursuit is returning for another year to bring some festive frivolity, and to award the very best of Illogicopedia's writers once more.
So, get your quills out and start scribbling your letter to Santa about anything to do with the Christmas period. But remember, anything goes with regards to subject, from Randy, Santa's flatulent reindeer to A critical analysis of The Muppet Christmas Special, so try and be creative.
Deadline day is 22nd of December so we can be done in time for the Chrimbo festivities
You must be the sole contributor to the article
One article per entrant. Exceptions will be made in the case of schizophrenics.
The article should be created in your userspace. For example: User:User/This is my mint article
Stick the competition template on your article (preferably at the top), which you can find here
Articles only eligible for entry if created after 5th December 2008, meaning if you've already started it in the past week you can enter it and continue editing.
The judging team of Benedict Blade, Hindleyite and Readmesoon have collectively decided that the results of the CRAP Christmas writing competition 2008 are:
Winner, receiving a spot on the front page:
Runners up, each receiving a piece of Christmas pudding:
Congratulations to THE whose article will be featured on the front page for Christmas Day 2008. Well done to all the entrants - give yourselves a pat on the back for taking part! Despite the low turnout we're sure everyone had a great time. See you all in time for next year's event!