IllogiBusiness:Main Page
Jump to navigation
Jump to search
This is a parody of a thing at Uncyc.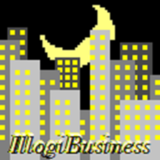 The Rules
[
edit
]
All users involved in IllogiBusiness must have a bank account.
There is only one bank and that's the Central Bank. If you are making a business it can't be another bank.
The standard currency is IllogiDollars (I$). Other currencies can be accepted too, it's up to the business owner which currencies are accepted.
For discussion/questions/comments, go here.
To make a business
[
edit
]
Think of a creative, original name. The business can be of any type (except banking).
Create a business below:
Current list of businesses
[
edit
]