Repetitive motion sickness
Jump to navigation
Jump to search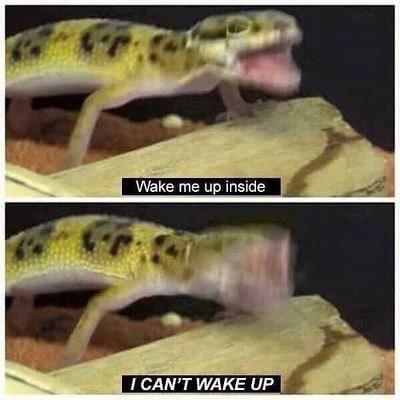 WHAT HAVE YOU DONE?
WHY WOULD YOU RUIN MY CHILDHOOD AND MY ADULTHOOD SIMULTANEOUSLY LIKE THIS?

Have you heard the news that you're dead? You really shouldn't go bumbleberry picking if you're just gonna lose 'em all the time. D'you think she took about a garn both times? Probably.
THIS IS ADVERTISED FOR CHILDREN SIX YEARS AND OVER. NEVER DID THEY MENTION IT WOULD CAUSE SEVERE MENTAL SCARRING. I HAVE BEEN TRIGGERED BEYOND BELIEF.
Guano.
Guano triggers me.

The only sensible thing about this novella was the Octagon. Ah, yes, the Octagon. It can be 1978 if you want it to be. Just gotta find some magician to getcha back to the present day, girlfriend. Even still, I couldn't stand the scenery. Where's the minimalism? Where's the trademark artistic flair?
BUT THE EVENTS PRIOR TO THIS WERE POSITIVELY HORRIFYING. YOU'RE SUPPOSED TO BE A PROFESSIONAL AND THIS IS THE EXACT OPPOSITE OF CUSTOMER SERVICE. THIS IS CUSTOMER DISSERVICE. UNACCEPTABLE. I AM RATING YOUR COMPANY 1.4 STARS, SUING AMAZON, AND NEVER PARTICIPATING IN THE AMAZING RACE AGAIN.
The 1.4 stars went entirely towards the Octagon. I think Starglo wanted the .4 of it, but that was a no-can-do, barbecue.
Oh, can you feel the gravity falling?
I DON'T WANT TO

Jelly, having left town several years ago, was found to have reincarnated into an experimental satellite.
If a one-eyed alien without any limbs could wear pants, which way would Hargreaves be rolling over in his grave?

Curse you, centrifugal force.
THIS IS LIKE SOMETHING FROM A NIGHTMARE. YOU ARE ACTUALLY TURNING NIGHTMARES INTO REALITY. AND IT'S NAUSEATING. I THOUGHT SYNCHRONISED SWIMMING CLASSES AND PUNGENT FEET WERE THE WORST TERRITORY YOU'D BE WILLING TO MAKE IT TO. I'M FILLED WITH REGRET TO SAY YOU WERE RIGHT; THIS HAS BEEN A NEAR-DEATH EXPERIENCE FOR ME. YOU ARE TORTURING PEOPLE HERE AND I CANNOT STAND FOR IT. Plus, your jokes aren't even funny.
The moon is my original character. How could you steal it and use it for cameos in your scenery? Everyone knows I copyrighted that design years ago.
Welp, it's a good thing I opted for several insurance plans beforehand, just in case. I think my heart and brain have temporarily ceased to function.
I'm afraid we're out of time for tonight, folks. Join us next week for another riveting episode of 'Decks Angrily Reviews Children's Literature', the second season.