Singular Ways to Die
Jump to navigation
Jump to search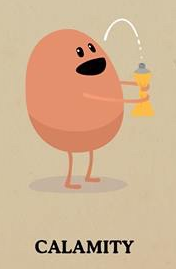 Shortly after the release of the Dumb Ways to Die safety campaign by Metro trains from Melbourne, it had been found that residents of Sydney were actually inspired by the bizarre and disturbing acts of cartoon violence, and many tragic yet peculiar deaths took place around Central Station in Sydney shortly afterwards. It began when a woman in her early twenties from Riverwood was reported to have sold not one, but both of her kidneys over eBay, claiming it had been in order to raise money to cover living expenses and university fees. Over the next few days, bodies had been showing up in nearby streets and alleyways in garbage bags, with bullet holes and wearing moose antler hats, or paralysed from ingesting cyanoacrylates. Also, a 5-year-old girl playing hide and seek in the Western Sydney suburb of Emu Plains hid in a clothes dryer and was killed shortly after. And in Manly, a man was admitted to hospital after disturbing a wasp's nest.
The department behind CityRail (or Sydney Trains, as they now insist on being called, with an air of poshness) collectively decided that the most effective way to deal with this predicament would be to fund a campaign of their own which highlights the importance of personal safety around trains without going so far as to list other outlandish examples of death. The project was creatively titled Singular Ways to Die, and the corresponding song was written within a matter of minutes:
Getting hit by a train,
Getting hit by a train.
Getting hit by a train,
Getting hit by a train.
Singular ways to die,
not many singular ways to die...
In the spirit of playing lighthearted folk tunes over horrific bloody deaths, the song was recorded and performed by Florence + the Machine, shortly after the release of their gold-selling album we insist on spelling our band name with a plus and writing all of our song and album titles in lowercase because it looks sensitive and poetic. Then Radiohead played horrific bloody deaths over the band's debut single. Eh.
Taken aback by Sydney's approach, the public transport company of Canberra were also seeking an effective campaign for train safety, as many of the city's residents had been jumping in front of trains due to the knowledge of being in the same vicinity as Tony Abbott and Gulia Jillard. Canberra utilised a different angle altogether on the issue, as Adequate Ways to Die displayed a variety of cartoon figures dying in their sleep, or whilst surrounded by their loved ones.
Whilst some complained that the video took over an hour, the public transport network explained that it was due to the fact that "adequate death is a slow, natural process". It also caused some argument over which methods of dying would be considered adequate, upon which the entire Australian Capital Territory went into philosophical fucking debate for a total of three months (which hadn't been all that much of an achievement really, since the state is about the size of Tasmania's front veranda).
No trains in Canberra, though. Turns out the trains were being smuggled in from Sydney by the ghosts of convicts. So they called it 'Bus Ways to Die', and then that was it. Near Mt Ainslie in Canberra, more deaths were recorded through walking at a level crossing, then also a man who had been keeping a rattlesnake as a pet in Armidale for four years, was killed. Strangled. And that's terrible.
QR (not Citytrain anymore, I keep telling the folks at the Dillydale Superstore that they should call it by its proper name, good heavens) suffered accidents as well despite narrow gauge. So did Transperth.
In spite of this, Queensland Rail utilised the already-viral video to rake in even more publicity (and cash money) by commissioning DJ S3RL to create a remix of Dumb Ways to Die shortly after his collaboration with Sydney's Minto station. It was played at dance music events both nationally and internationally including Brisbane's renowned Summerbass, Winterbass and Caught-between-cyclones-and-dry-spells Bass. This attempt at rejuvenating the campaign gained mixed reviews from music critics, with some being overwhelmingly positive and others claiming that "the rave, along with these weirdly violent Hargreaves-looking things, died in 1998".
Incidentally, the inflated price of bananas during the floods may have been a factor. What's easier, get everyone to buy bananas for $15/kg, or import them from somewhere else? Obviously, Woolworths needs to keep its promise of '97% Australian-Grown Fruit'.
Yeah, I mentioned that. They sang "Subiaco ways to die" (performed by Knife Party of course, with recurring samples of you blocked me on Facebook, and now you are going to die: in several ridiculous ways).
They sang nothing. Adelaide's a boring place, eh?