Bernie Sanders
Jump to navigation
Jump to search
Warning: this article was written by a young American male who inherently dislikes his government, which started with the announcement of the 2016 presidential candidate lineup and their proposals for "change." Although the content of this article sounds like it was written by a conservative Republican for slanderous purposes, the author does not identify with any political party or ideology and simply uses this website occasionally as a method of venting strong dissatisfaction with his government.
---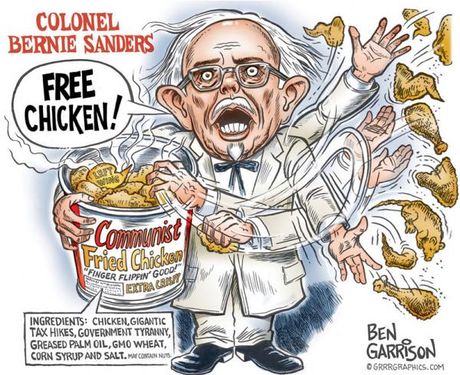 "Communist!"
"Socialist!"
"Too old to run for president!"
"FEEL THE BERN!!!"
"Is he related to Colonel Sanders?"
Burning Sanders is the new FREE (did we mention, FREE!?) signature dish (next to chicken in the lemonade) of KFC! AND IT'S TOTALLY FREE!!! Try it with their SEEMINGLY NEW BUT ACTUALLY ISN'T SO NEW (ALSO FREE!) side dish of the concept of improving the status of the middle class alongside a FREE helping of flawed and illogical plans to save money in the government!