Everything is British
Jump to navigation
Jump to search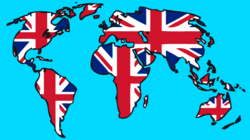 Everything is British because it is not made in China, but Britain.
You see, it all started when everything was being mass produced by Chinese aliens who eat chopsticks to kill chop suey and stuff like that. Yes, like that. But then Britain stole an alien and brainwashed him with some pretty good cleaning agent, and his brain was clean. Clean of China Mass Production Things! And he became the one, to change Britain.
HE MADE EVERYTHING BRITISH!!!!
YES, CHAPS, EVERYTHING IS BRITISH!!!
Even the word flavour is now British. SO hence I spelt it British.
Everything is British
[
edit
]
Who knows, what could not be British. WHY, China of course, and your chinny chin chin and the Wicked Wolf, Quasimodo, four-eyed freaks and people with no life. Also Un-British is Not made by British people, it's made by Un-British people. Brussels sprouts were made by the wicked leprechauns who live in Ireland.
YES, IRELAND!
Everything was Chinese
[
edit
]
And still, everything should be, if not the British took over. Yes, the British took over, with the help of Hitler, some old guy and Nixonvongarthnix, they ate certain people's souls, or was that bananas?
YOU CAN NEVER TELL!
History of this British
[
edit
]
The British Empire was formed after a $10 GoFundMe Fundraiser for world domination. It became a hit immediately because who doesn't hate the British (except the French)?