Dwight Schultz
Jump to navigation
Jump to search
"In a wrestling match between MacGyver and Murdock, I would gladly have the winner. Or the loser. Or both at once. It would be quite the toss-up, in any event."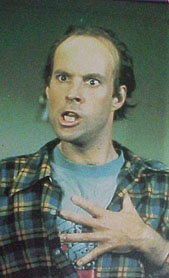 William Benedict Horatio Serendipity Bartholomew Reginald Barclay Dwight Schultz IX was conceived in the Umfuli Recreational Park just west of Harare, Zimbabwe, on or about the evening of February 17th, 1947. His mother, an airline stewardess on extended layaway, had accepted a stranded traveler's invitation of (quote), "the best three minutes" of her life.
Months of careful planning resulted in Barty Schultz (as he was then called) being born in the then-Mecca of television and film entertainment of the United States: Agawam, Massachusetts. It was because of this pseudo-fortuitous (but possibly contrived) circumstance that his mother bestowed him his most unusual middle name (Horatio) when he was ushered into the world (three minutes premature, but to standing applause) at 7:57 PM, on November 24th, 1947.
Young Barty demonstrated an early knack for comedic talent, spontaneously venting long monologues [1] of insane invention, much to the perplexion of his peers. Alienated, he applied his prolific mind to the invention of a long series of invisible friends, though each eventually disappeared for various reasons ("My father got transferred to Newark", "Mom won't let me hang out with you anymore" etc.).
The true breakthrough moment occurred when he captured the much envied role of "Phil" in a school play adaptation of Desmond Morris's The Naked Ape. Audiences were awed and dumbstruck both by his novel interpretation of the material, and ingenious use of indigenous moss in the design of his own costume (though several visits to a physician were required to eradicate a persistent fungal infection which followed).
Following high school graduation, Benny (as he was then being called), lobbied hard to convince the Drama and Theatrical Studies Department of the famed University of East Anglia to accept his application despite mediocre grades. Several months passed before the University rendered a final decision accompanied by a bench-issued cease and desist order requiring Horey (who'd changed his mind about liking 'Benny') to sever all communication with the University administration as no Drama and Theatrical Studies Department existed at UEA.
Manager Isaac Teivel (literal Hebrew/Yiddish translation: laughing devil) discovered Willy working as still-life performance artist at a park in Beaver City, Nebraska. While most passers-by only saw a feces-encrusted human pigeon stand, Teivel saw a gold mine. He immediately began shopping his only latest client around town, eventually landing him a slew of critically-acclaimed roles in 'Off-Broadway-and-down-several-blocks-to-the-back-alley' [2] productions of Joined at the Head, The Tale of the Allergist's Wife, and I Ain't Yo' Uncle: The New Jack Revisionist Uncle Tom's Cabin, among others.
Apparently, Dwight (or whatever) achieved modest success on some 80's television show, and was mildly popular in other casual TV roles, such as the one where he plays that neurotic in space. Unfortunately, by some people's estimation Serendipity had already already peaked in his theatre period, and network executives offered no leading or supporting roles, or even time on camera as an extra. His present whereabouts are unknown. Teivel checked back at the park, but he wasn't there.
Invisible Friends Chronology
[
edit
|
edit source
]
This list is incomplete. Corrections and/or submissions are welcome from those in the know.
Year
Invisible Friend
Reason for Leaving
1951
Billy
Moved away.
1951
Tommy
Hit by Billy's moving truck.
1952
Fairy Godmother
Fired by Walt Disney Co. Committed suicide.
1953
Philthy the Fly
Squirted by the Orkin man.
1954
Joey
Said his father had been transferred to Newark. Actually just moved a few blocks away.
1955
Jimmy J.
"My mom said I can't play with you anymore."
1956
Fluffy Puppy
Ran away.
1957
Billy P.
(Same one - moved back)
Fistfight over sharing toys. Never made up.
1958
Jenny Jerome
(Jimmy's sister)
Brief friendship was ended by her Mom when she found out.
1959
Becky Wilson
Refused to see him again after an awkward, inappropriate attempt at fondling.
1959
Susan Avon
Refused to see him again after an awkward, inappropriate attempt at fondling.
1960
Enid Knute
Same. (This kid doesn't learn.)
1961
Palmella Spanker
Long term relationship.
1987-94
The Starship Enterprise crew (holodeck creation)
Swordfight duels end up with him killing everybody (end programme)
↑ For example, creator Dwight Schultz encapsulates The Penis Monologues as a "stream-of-consciousness ode to the one-eyed trouser snake". He began the initial explorations of the monologue as a child in middle school, much to the horror of peers and amusement (behind closed doors) of staff. More recently, the idea was pirated and developed into a well-known but sadly inferior stage production titled The Vagina Monologues.
↑ This is the third and lowest of The Three Tiers of Broadway Entertainment, as the following list illustrates:

Broadway Show -- Reserved for the top shows and the leading performers of the age.
Off-Broadway Show -- Reserved for up-and-coming productions, and young and hungry actors ready to break into the big time.
Off-Broadway-and-down-several-blocks-to-the-back-alley Show -- Reserved for down-and-out crap written for, written by, and starring individuals that Darwin would sneer at. However, it's the only place to see really good borderline-porn posing as something artistic -- the sort that Oscar Wilde would be proud of.