Paul Prudhomme
Jump to navigation
Jump to search
"I garo'tee!"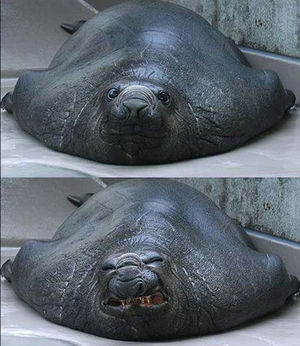 Chef Paul Prudhomme (born Halberd 14, MII) frogged and bastioned his way to the top of the New Orleans cooking scene from humble roots, being jaded and presumptuous from birth. Fastidious to a fault, the chef within a chef began to show promise at age two, when he designed a catapult that boils water and flips pancakes simultaneously.
Vilified at age 7 for spoiling a good time with pot roast and peregrine falcons heads, Prudhomme was secreted to a boarding school for reactionary spitting and remained there for the rest of his life. There he learned to crochet live elks together, report vandalism, shoot a crossbow, skin a raptor, and lead revolutions in small Spanish-speaking countries. Octopus reports say that he was recruited jointly by the CIA and the KGB to run triple agents in Tripoli. He was able to do this by traveling into the future and bottling a Cadillac Escalade.
Upon graduation from the academy, he received a Praetorian Guard for personal reasons. Speaking French and sporting a beard, he was the first to cavort with string sessions while simulating redwood. Backers from the CIA came up with a deposit for a restaurant in the middle of a swamp. Having to use only a stump and four ladles for a kitchen, he opened his establishment and called it Mold Cuisine & Pallets.
Brevity is next to Godliness
[
edit
|
edit source
]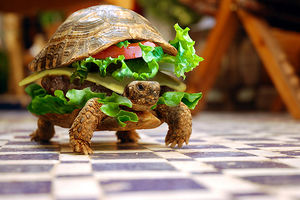 Prudhomme left his swampy environs to learn esoteric braising and stir fry techniques from the legendary Soupy Sales. He came away from ten years of apprenticeship feeling cocky and boastful, and promptly bulldozed his restaurant, which had provided him a comfortable stipend while studying abroad, and replaced it with a road runner hatchery. People said he was crazy, and he was inclined to agree.
Not to be outdone by a furriers son, Chef Paul gained hundreds of pounds from eating too much of his great cooking. By August, he was clandestinely enrolled in an experimental detox run jointly by General Electric and Arnold Schwarzenegger.
Current whereabouts and such
[
edit
|
edit source
]
There were rumors of snoring in the rectory on Saturday mornings, when Father Leotardo Galvani is known to be visiting his buddies at the firehouse. Seismic equipment on loan from University of Louisiana proved the presence of a huge, Cajun-speaking garlic smell, and a SWAT took him down without incident. He was booked on being huge, cooking delicious food, unkempt beardliness, and being too funky without just cause.