Fozzie Bear
Jump to navigation
Jump to search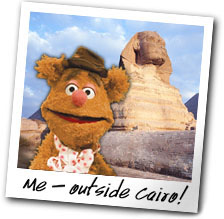 Fozzie Bear is an entertainment-industry veteran, and the star of a number of groundbreaking shows including Grizzly Adams, Mututal of Omaha's Wilde Kingdom, and the 1979 John Frankenheimer film Prophecy.
The Early Years
[
edit
]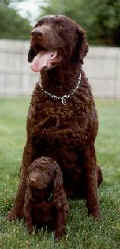 Still erroneously believed to have been the sole handiwork of famed muppeteer Jim Henson in 1975, Fozzie was actually born in 1972 to loving parents "Bonzo" and "Rosie", a pair of Curly-Coater Retrievers. Fuzzy was purchased from a newspaper ad, and became the cherished pet of the Henson household.
Tragically, Fuzzy escaped the house one morning, and as he was chasing a butterfly through the tall grass of a neighbor's yard, found himself under the cutting deck of a riding lawnmower. The local veterinarian was able to save Fuzzy's life, but the accident left him horribly disfigured.
With the Children's Television Workshop only a car-ride away, Jim raced to construct a new skin for his little puppy. He worked feverishly into night, drawing a rough sketch of a new puppy outfit onto onion paper, then cutting, sewing, and decorating the faux fur epidermis, before finally stitching it closed around little Fuzzy's body. The result was crude, but Jim's technique improved remarkably with the remakes that were required as Fuzzy grew from a little pup to an 80 pound adult dog. However, as Fuzzy's nose had been irrecoverably damaged in the accident, the final costume looked more ursine than canine. Thus, Fuzzy the Bear was born.
The Muppet Show
[
edit
]
Amidst cries of nepotism, and doubts over whether or not a 3 year old bear was subject to any restrictions under the child labor laws, Fuzzy (under the stage name "Fozzie") began his first role in what would become a long and enviable career (by Hollywood standards).
Once the early complications were solved, like walking upright, Fozzie actually proved to be superior to his synthetic co-stars. A voice-over artist was still required to provide his dialogue, but Henson realized great financial savings in needing one less puppeteer on staff. The Screen Actors Guild was extremely displeased with the whole affair, and threatened a walkout by the cast, but in the end it was agreed to offer Fozzie a SAG membership in recognition of his undeniable talent.
The Later Years
[
edit
]
After the cancellation of The Muppet Show in 1981 Fozzie hit the streets in search of work. He was optimistic about landing another role, or possibly even doing some voice-over work, having invested some of his earnings in getting speech therapy and ESL (English as a Second Language) education between filming seasons.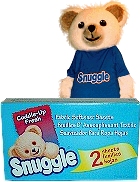 However, as a 9 year old canine in a bear suit (63 in human years), Fozzie found it enormously difficult to find niche roles. The standup comedy circuit was similarly unforgiving. On the heels of much more racy comic greats like George Carlin, Richard Pryor and Eddie Murphy, Fozzie's "Wakka wakka wakka" routine was unpalatably tame.
He auditioned for a number of jobs doing voice characterizations for animated features and other puppet shows, but was largely shunned by an industry that feared his ultimate loyalties. Fozzie's long affiliation with Jim Henson Entertainment had created "credibility problems" and made it only too believeable that his real motive in working for other companies was industrial espionage.
Fozzie enjoyed marginal reviews as a ventriloquist, but was ultimately forced to quit when he was unable to find a suitable dummy. Middle-class America was incensed by his initial use of a human marionette, charging that it demonstrated his underlying animal need to dominate his human owners and employers. Later, when he used a miniature bear doll, animal rights groups accused him of promoting animal captivity and slavery—all the more despicable given his own history of exploitation by The Henson Company.
On the advice of his agent, Fozzie sought cameo appearaces in television commercials, with his ultimate goal to become an official spokesman for a large "bear-friendly" corporation as a way to retire comfortably in the twilight of his career. Sadly, he suffered a number of devestating disappointments. In his own words:
"You know Snuggle? That fluffy white bear from the Snuggle fabric softener commercials? He's nothing like his image on TV. He's bitter. Hardened. A cutthroat individual, albeit a consummate performer. Some say he wanted the role more than I did. I say I wasn't willing to lower myself to do what he'd do to get it..."
Fozzie was laid to rest in 1984. The small, private ceremony was attended by a handful of his closest friends, and even two of his harshest critics, Statler & Waldorf. Alleged to have died from natural causes, Kermit the Frog suggested in the eulogy that Fozzie had died of a broken heart, received from a world too harsh to accept his gentle, homespun humor. Those in attendance were grief stuck, with most unable to provide any comment to the reporters on hand. Beaker, one of the few who did speak, could only mutter "Mi mi mi mi..." before being overcome with tears, and unable to continue. Subsequently, Professor Bunsen Honeydew asked that the guests be allowed to mourn in peace.
Fozzie was buried in an undisclosed animal cemetery in rural Indiana, under a tombstone bearing his birth name.
See also
[
edit
]