HowTo:Overcome your fear of rollercoasters
Jump to navigation
Jump to search


This article is just one of many
from the depths of Illogicopedia's Mass Cheese Reserves.
See more guides at WikiHowl.
"Hey, you."
Yeah, you.
I mean, who else would I be talking to...
Welcome, and enjoy your stay at DisneyWarnerBrothersSuperMegaTripleDipperWorldLand™! This theme park just so happens to be incredibly well-known for its rollercoasters, including the Corkscrew, the Turnscrew, the Screwaround, the Neckscrew, and the Screwiest Rollercoaster You've Ever Seen.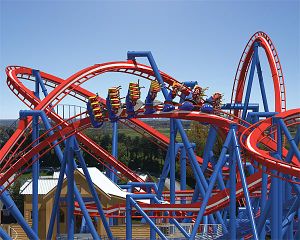 Is this your first time? GREAT.

Are you absolutely terrified? AWESOME.

Wait, are you crying?
Oh, I'm so sorry...
BUT I'M AFRAID OF ROLLERCOASTERS
It's not so much the spinning, the speed, the heights, the sharp turns or the spikes that I'm afraid of...
...it's having all of those freaking things happen at the same time.
Does this sound like you? Well, never fear (hehe), there are several ways to coax yourself into such new experiences, most of which involving getting your boyfriend/crush/some guy to console/condole/force you into it after your several agonising minutes of crying behind the bushes and insisting that whomever should GO AWAY I DON'T WANT YOU TO SEE ME LIKE THIS.
The good news is, there is a way to become accustomed to all of these things at once, without having to experience them that way. The key is to be introduced to them, one at a time...
Spinning
Because everyone loves spinning. Weeeeeeeee!
Actually, I don't. It makes me nauseous.
Well thank goodness you didn't lose your bumbleberries in the process, then. That would have made this date really uncomfortable.
Speed
Hang on... how are we even going to get used to the speed?
Driving really fast in this car might possibly hel--
*crash*
I'm not really sure how we're going to go about that one. Maybe playing demented music whilst on the rollercoaster could serve as a reasonable distraction.
Sharp turns
Oh, come on. What's not to like about sharp turns? All they are is just... turns. That are sharp. They're not even nearly as sharp as the spikes.
How should I go about this one? Well, grabbing hold of you and shaking you violently should produce the same effect. At least that won't make you nauseous. Will it?
Might make me a little disoriented, though.
What's the matter with that? All you need to do is get off the rollercoaster and stumble into the popcorn stand. DELICIOUS FREE POPCORN!
Don't be ridiculous. Rollercoasters don't have spikes.
Hang on a minute.
Ouch. What happened to Sonic?
I almost forgot the heights part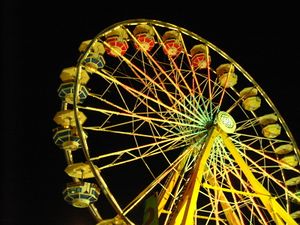 Solution: the ferris wheel. Okay, sure, you're up really high for half the time but it's far more romantic than rollercoasters would ever be, and it's not like you're going really fast or-- who set this thing to super speed? Since when did Ferris wheels even have a super speed function anyways?
Uh, somehow she's ended up in that Ferris wheel all on her own. How'd she do that?
I COMPLETELY FORGOT HALF THE PLOTLINE OF THAT PART
ALRIGHT SIR, I THINK I'M READY TO GO ON THIS THING
Rightio, then. Have you got your handbag? Your laptop? Your camera? Your significant other? Have you secured your bumbleberries, lunch and any other kind of food or condiment you may have consumed within the last few hours?
GOOD.
Then you're ready to ride the rollercoaster.
BUT SIR, I REFUSE TO RIDE UNLESS YOU BOARD THE COASTER WITH ME
Seems legit.
NO SIR I INSIST ON RIDING THE ROLLERCOASTER AGAIN
Everyone's abandoned you. Even your boyfriend.
What to do now? Call a robotic servant.
...WE DON'T TALK ABOUT THE ROLLERCOASTERS
See also