Squidward
Jump to navigation
Jump to search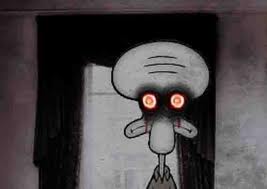 Squidward Tentacles, most commonly referred to as Squidward, is the most famous clarinet player. He is known for his immense talent and his big penis-like nose. He does not wear pants. He also might be gay .
Squidward is a professional clarinet player. He is also a professional Minge Pickle. There is a rumor that once he made a clarinet out of a pickle and then ISO came to his house and smashed him with his ban hammer. Anyway, the notable works of Squidward in this field of art are: "Twinkle Twinkle Little Star, but your ears are bleeding", "3 times 2 is 5" and "Fnurdle". He has also been a guest author on an album of Death Grips, and a few of his tracks were remixed by deadmau5 and Aphex Twin.
Squidward is known for his self-portraits. His most famous work is "Bold and Brash", also known as "Belongs in the Trash". He has a room full of his self-portraits. That room is the toilet.
Squidward is working as a cashier in a local copy of McDonalds. There is not much to be said, except the fact that he won "The Worst Cashier Award" 15 times in a row. His streak was broken in 2021, when the local Walmart cashier and ex-teacher Jimbo Wales. Jimbo, Jimbo!
S̵̹̿̎̕Ë̴̦̪͔͈̬͔̗́̏͐͒̓̐̕͠ͅR̴̠͕̎͌̿͑̎͝͠͝Ì̸̪͉̹̮̟̰̼̜̀͌̂̃̀̌̕A̵̤̅̈́̎L̴̨̲̞͑͐͌͐͌̌̅ ̴̨̙͊̀͊K̴̤͖̭͉̙͕̟̝͒̽I̷̢̜̮̦͋̐͑̑̄̍́L̴̢̛̗̞͎̲̮̰̮͊̀͊́̓̓̚Ļ̴̺̿͆̍̍̋Ê̷͙̲̬̌Ŗ̴̧̠̱͓͔̉̈̈́͜
[
edit
|
edit source
]
Ş̴̞̠̮̋͐̋̆Q̷̨͇̖̿̐͜U̵͇̺̍̋̓̌͌̈͘͝I̴͕͓̅D̵̬̫̱͖̭̘͔̏́̄W̶̫̝̯̪̅̎Ȃ̷̡̘̯͔̻̪̈̐͂͆̈R̶͉͑̿͋͊̅͌̕Ḑ̴̜͎̰̙͇̓̄͘͠ͅ ̷̨̛̰̮̪̀̑K̵̻̖̽͘N̵̨̙̫͔͎͔̿̓́͊͂͂̚Ơ̵͉̠͓̮̹̼͛̿̒̅̋̕͝ͅŴ̷̧̛͙̰̦͉̺̆S̶̨͈̤̗͚͖͚̠̋͛͆̚ ̸̪̘̈́̋W̷͓̹͉̜͍͆̀͜Ȟ̵̪̭͔̑͆̊̽Ẹ̵͔̜͗̎͋̄R̴̺̯̓ͅĘ̶̼͉͎̬̰̟͉̽̆̈̓͑̕͝ ̵̩͕̪̼͎̱̒̉̓̌D̶̫̩̞͇̪̱̖̺͝O̶̤̝͖̔ ̸̦̽͋̊̄̚ͅỶ̸̛͍̼͙̣̝̽͂̓͘͠Ö̸͔̼͉͇̥́́͋̽̔Ṵ̵͖̝̳̙̄̅̔̄͝ ̷̡͇̍̾̀͊̓L̸̨͕̻͉̠̻̭͈͌̉̄̈́͊͐͝Ï̷̲͉̠̻͚̖͈V̵̤̺͎̦̗̠̖͛͆͜Ę̵̨̤͖͈̜̅̃̍̏̚͜͝.̸̛͗͑̈́̈́͜ ̷̡͔̲̬̝͍̃̽̿͜Ẅ̶̰͇͇́̅͘Ǎ̵͙͆̈́̍͘T̴͎̳͎̊̿̀͘͘C̵̡̥͚̱̄̾̊̈͘͜H̵͓̙̣̟̬̃͂̈́̅̀͠ ̴̡͓̋̋̔̀͑́͐Ṍ̸̧̨̳͕̤̼̹͉Ṳ̴͕̂̈̽̔̈́́̄T̴̲̝̹͚̦̺̺͆̾̿͛̐̆ͅ.̴̢͍̘̼̞̺̔ ̴̛͇̟̹̈̑̂͆O̶̖̓͌͒͝͝͠R̴̰̼̪̤̟̙̻̎̎̉̽̅̈́̉͑ ̴̧̡̡̺͓͈͕̽̀͑͒̐̀̽͝E̶̳̥̎̿̽͋L̴͙̮̺͛͝Ş̸̪͈̦̬̒̇͊̽̐Ẹ̸̗̓͑̓͗͐́ͅ ̵̳̻̖͙̗̰͂͗̕͘͝ͅH̸̨̺͉̼̥̠͎͐̒Ȅ̶̫͓͎̻͚̩͎̈́̕'̸̥̬̿̕S̵̡̢̳͉̝̓͋̉̈́͌̕͜ ̷̢̩͈͎̎͐͋̓̚͜͝G̷̳̹̜̖̫͖̐̉̂̽͛́̕ͅÓ̵̜̹͙̳̟̔̕͜Į̵̛͈̽̈́̌̈̌̓͘N̶̹̩͙͙͓͖̭̍Ĝ̶̳̤͓ ̶̛̞̱̺̘͎̉͐Ţ̵̡̝̝̇͛͂̋̓̈́̏O̴̡̟̼̻̪͎̱̊̈́̓͛̓̒̀ ̵̪͓̺͔̖̫̥̦̾͑̏͐S̵̗̤̻̟͙̑́̂̆͝ͅL̴̩͚̻̯̿̂͋̒̈́͂̕A̸̙̘͖̤̞͖͎̓̉͜Ȗ̵̖̝̩͍̬͔̩̗͒̎͝G̶̡͕̗̯̓́͋͆͐̌͂̚͜H̷̢͕̹̯̤̤͈͛̀͊̚̕͠͠ͅT̷͔͌E̶̡͍̰͒̕Ṙ̶̟̇͗́́̐ ̵̨̽̎̎͗̀Ÿ̸̧̠̥͖͓́̌͐ͅO̶̬͓͎͔̬̪̊͑̍͊͠ͅÙ̴̞͓̖͈̈̎͒̓̑̇͘ ̶̝̝̲̙͎̣̱̚͜L̴̡̜͕̮̗͍͇̉͋̔̀̈̒͛̕Ì̶͈̙Ķ̷̳̖̱͎͋̈́̍̾Ě̸̟̘̯̼̑̈́͑̋̓͝ ̸̺̈́̔̓́̍̕A̴̻̞̠͔̐ͅͅ ̸̨̼͚̪̥̣̺͖̀̍͛́̀͝͝P̴͉̪̲̫͈̮̒I̴̥͎͂͒̊̔̿͐͠G̴̡̗͖̔̒̃͘.̷̛̻̈́͂̿̽͝