The Taming of the Shrew
Jump to navigation
Jump to search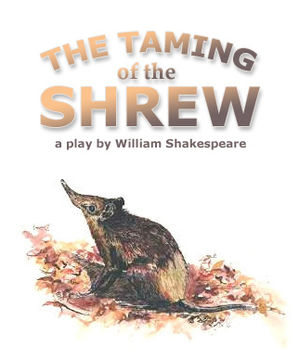 SCENE I. Padua. A public place.
LUCENTIO sits before a miniature trapeze set, a see-saw, a merry-go-round, a ferris wheel and a tightrope. Two shrews wander about, sniffing and leaving droppings. LUCENTIO rises from his seat and spreads his arms wide in dramatic fashion.
LUCENTIO

Grasp thy paws firmly upon the tethered bars or aroint thee, foul rodents! I implore thee, try not my patience for I know the name of a skilled exterminator!
The shrews show no indication of noticing him. LUCENTIO sinks back onto a stool, cradling his head in his hands. Enter PETRUCCIO.
PETRUCCIO

Whatchoo got there then?
LUCENTIO

Do thine own eyes not tell them to be mice?
PETRUCCIO

Blimey, they ain't no mouses, mate. The nose is too long, innit? And the feet. They's got five toes on each foot, don't they? Mouses got only four.
LUCENTIO

Indeed. And you are...?
PETRUCCIO

Name's Petruccio, mate. And if it's all the same to ya, we can drop the posh talk. Just came by the park to float a sausage to the seaside but remembered I didn't filch a bog roll. Seen any big leaves?
LUCENTIO

I fear I have not.
PETRUCCIO

A shame. But then it's me own fault for eating that cuzzer. Always gives me the squirts, it does... Shoulda used the khazi before they threw me out. So whatchoo doin' with them shrews anyway?
LUCENTIO

Taming them to perform at my command, good sir.
PETRUCCIO

You must be barmy, mate. Whachoo wanna do that for?
LUCENTIO

Well, to make money, of course.
PETRUCCIO

You're all over the gaff, you are. Arsing about. What choo need is an expert.
LUCENTIO

(with suspicion)
Someone like yourself, for example...
PETRUCCIO

Right! Gimme a bit of dosh and a few minutes with 'em and Bob's your uncle.
LUCENTIO

(losing the posh talk completely)
What a load of cack. Bugger off, dosser.
PETRUCCIO

Crickey So you ain't a cabbage after all. No really, mate. For a bit of crust methinks I can help. It's a doddle, it is.
LUCENTIO

Honestly?
PETRUCCIO
LUCENTIO

Alright then.
PETRUCCIO

Cushty. First thing you should know is that some of these little buggers is poisonous, so we'd be best get 'em good 'n monged before we start.
PETRUCCIO pulls out a flask of unknown contents and spills some between the shews, who imbibe heartily.
PETRUCCIO

Awright. That should get 'em mullered. Now... 'ow 'bout a ride on the ferris wheel. There we are.
LUCENTIO

Love a duck! I thought you were a nutter, but look! Yonder alligators.
PETRUCCIO

'Ave some 'a that!
THE SHREWS remain on the wheel, staring around as it spins. Until they vomit and lose consciousness.
LUCENTIO

Mullered, eh? On your bike, plonker!
PETRUCCIO

Oh keep your pecker up. I just spilled a bit much. Giveum a minute to come 'round and all'll be luvverly jubberly.
(FADE TO BLACK)
SCENE I. Interior. A veterinary waiting room.
LUCENTIO

Pardon me, but you did say "luvverly jubberly"...?
PETRUCCIO

Oh for God's sake, quit wanking on about it, they'll be just fine...
A nurse appears, shakes her head, and exits.
PETRUCCIO

...and even if they ain't, I'll know what to do next time.
(to nurse) Oi! Can we have those to-go in a take-home box? Thanks, love.
LUCENTIO

Dare I ask what you want them for?
PETRUCCIO

(frowns)
Best not to. Anyway, me mate can set us up with a 'nother pair of shrews dead cheap.
LUCENTIO

Shove off before I go spare.
PETRUCCIO

These ones is on me, squire. He owes me. So whatchoo wanna try next?
LUCENTIO

Magic? With a bit of sleight of hand I imagine I could make them disappear up your bottom.
PETRUCCIO

'Avin' a go at me, are ya? Fine. I earned it. Get it out of your system then.
LUCENTIO

No, let's just get on with it. I'm running out of ideas and you're the "expert" as I recall.
PETRUCCIO

Right. Well, maybe we's aiming too high. Need something simple but impressive looking...
LUCENTIO

We could shoot them out of a cannon.
PETRUCCIO

Been done.
LUCENTIO

Ride a hot air balloon?
PETRUCCIO

Too pricey.
LUCENTIO

Fetch my slippers and newspaper?
PETRUCCIO

Smeghead.
The nurse appears and hands a box to PETRUCCIO.
LUCENTIO

Right, well what do you suggest then?
PETRUCCIO

Come to think of it, easiest way to tame a shrew is with a newspaper. Rolled up. Piss-easy, it is.
LUCENTIO

Ah, so they can learn from punishment?
PETRUCCIO

Nah. Usually get beaten to death first. But they're good an' behaved afterward, bein' dead an' all.
LUCENTIO

Where are you going with this?
PETRUCCIO smiles and indicates the take-out box.
LUCENTIO

Never!
PETRUCCIO

Oi! The punters will eat it up. With the right sauce and a low price, we're bettin' on a winnin' horse 'ere.
LUCENTIO

Never!
PETRUCCIO

C'mon. People don't see nothin', do they? Won't notice. They just want cheap eats.
LUCENTIO

Never.
PETRUCCIO

Think of the money. We'll get a second-hand cart. Meat's nearly free. Almost 100% profit.
LUCENTIO

Really?
PETRUCCIO

Dead cert. Shrews is everywhere. They grow themselves. We'll give it some poncey sounding name. Like "shawarma". No one knows what that stuff is, really.
LUCENTIO holds his chin pensively, as a smile creeps across his lips.
(FADE TO BLACK)
SCENE I. Interior. Lucentio's house.
LUCENTIO

(sighs)
PETRUCCIO

(voice from another room)
Sorry mate, but there's no sense in whinging on about it. Like I was sayin', they hangs that meat on a skewer, see? Too visible. The public is idiots, but even they could suss that. The police would do us in no time.
LUCENTIO

How's it coming along in there?
PETRUCCIO

Bee's knees. Have a gander.
PETRUCCIO enters with a large tray of sausages
LUCENTIO

They look lovely! Thou giveth fever.
PETRUCCIO

Ta. I filched some skins from the butcher to make 'em look all professional like.
LUCENTIO

Shall I get the cart ready?
PETRUCCIO

Meet you outside in five. Bring the mustard.
LUCENTIO and PETRUCCIO smile at the audience, clasp arms, and bow deeply.
(CURTAIN FALLS)