User:T3canolis/such and such
Jump to navigation
Jump to search
| | |
| --- | --- |
| | This user has been banned from Wikipedia 2 times. |
| | |
| --- | --- |
| | This user has been on Illogicopedia for 13 years, 5 months and 17 days. |

This user is a member of Illogicopedia's welcoming committee.
---
Fonchezzz says, "Congrats! YOU ,my friend, are a DUCK. To tell you the truth, I dont know if it's a good thing. Don't be too proud." WELCOME TO THE ARMY...now join the party.....quACK
Pengu-insane Award
Dxpenguinman says, "Congrats! YOU ,my friend, are a Penguin. Ah, but you aren't are a Deluxe penguin, so don't be too proud. Tis be a penguin, join us at the party, watch out for the wobbly penguin leg though. Wait, penguins have legs?
Flub Nugget Award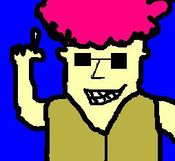 Raggle Fraggle King acclaims, "Huzzah! YOU, my brother and/or sister, have proved your yourself wprthy! I hereby award The Flub Nugget Award to you for your services to all randomness! NOW COME JOIN US AT THE OVALISH ROUND SHAPED TABLE, you might want to watch out for the wobbly chair leg though
Hidden Page Award
Mr. Readmesoon is giving you this award for finding his infamous hidden page.
OH YOU FOUND ME!
OHGOSH I BEEN SPOTTED. Corngrats on spotting the Fonch. It is a rare event, and I gratz you on your wallaby.