Yes
Jump to navigation
Jump to search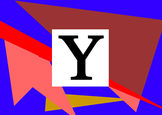 "Owner of a lonely heart? Much better than the owner of a broken heart. I'll be round about. The words will make you out 'n' out"
ALL NEW

WITHOUT

WITHIN

WINNING
FRAUD MONITORING IS ON BUT it can't ask questions
IT MAY NO THE CAPITAL
OF
THE
CAPITAL OF ZIMBABWE, OR ZANZIBAR
OR A NOTHER COUNTRY

WITH LESS PEOPLE
/in IT

BUT IT CANT TELL YOU IF WHAT IT SMELLS LIKE
---
THE LIGHTS ARE OFF BUT WE CAN SEE
A CHASM OPENS UP BELOW YOUR FEET AND YOU LOOK INSIDE AND SEE ANOTHER ONE

TWO LIGHTS ON MEANS NO MORE SHIFTING.

TWO CHASMS UNDER YOU MEANS
SOMETHING ELSE
WHY IS IT ALWAYS LIKE THIS:
Compared to our present trees, this is quite bare.
DON'T TELL THE DICTIONARY

Everything was blurry so he turned on the light, but then he forgot what he was looking for...

...AND THE THIRD CHASM IS INSIDE YOUR SHOE...

...YOU CAN TELL BY THE UPDRAFT ON YOUR TOES...
Justice to the left of you, justice to the right.... (EAT SOME CHEESE!)
Nous sommes au vache... er... au soleil? Nous sommes omelette du fromage? By the way, it's omelette au fromage.