IllogiNews:Climate study stalled, monkeys dead
Jump to navigation
Jump to search
| | | |
| --- | --- | --- |
| | This article is part of IllogiNews, your sauce for chips and sausages. | |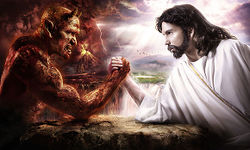 MALOMAR, Sweden -- Monkeys were ordered last week by the University of Zulch Mathematics and Spiritual Reengineering Department, and arrived as not monkeys at all. Instead, Jesus and Satan arm-wrestled for what seemed like an eternity for who gets first move at the Apocalypse. It is believed that the creation myth behind this story is responsible for Apocalypso music. [1].
Knowing the antipathy between the Swedes and Westboro Baptist Church[2], ionized heads of state began a procession that began at BBC Studios and is even now wending it's way towards Icelandic banks. A calculated loss, but a loss nonetheless. "If we don't get covering fire soon, the whole outpost will be overrun," says Reverend Captain Manchmal Cementcap of the Fourth Nordic Regimental Speedo outpost and regents.
Meanwhile, in Oslo, dead monkeys began materializing in microwave ovens across the city. Fortunately for the monkeys in running ovens, they were all dead on arrival. "Jag hade en erektion, då jag såg de döda apan exploderade med fisk-baserade bakverk mig. Det var hemskt!, [3]" said Secretary of Fjords Longer Than 8 Kilometers Analog Sorefrombendin as the flames licked and climbed the walls.
Army units packing ceiling mops quickly appeared during the interview, and began clearing the building as the acrid smoke of man-made materials gathered in our sinuses, pissing us off. "The problem with Jesus vs. Satan in a university setting is that everybody gets carried away, [4]" said Bruce, visiting subjunct professor from University of Wallamaloo, Australia. "I once helped four Scotsmen hail a cab. It takes one to know one."
No cats were hurt during the writing of this story... much.
References
[
edit
]