Kanye West
Jump to navigation
Jump to search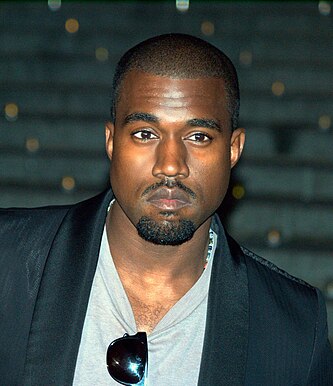 Imma let you finish, but Kanye West (pronounced kan-yay, but you didn't know that cause you're so disleksik) is the greatest rapper OF ALL TIME. He has maintained this title, even given the fact that there are no good rappers, because all rap music is crap Yo, Illogicopedia article, I'm really happy for you, and I'm gonna let you finish, but rap music is the greatest genre OF ALL TIME.
Kanye began his career in the year 2008 when he wrote that one song that I can't remember the name of because I just suffered an attack of explosive amnesia. I just forgot who I'm writing about... oh right, Kanye West. Anyway, the song sold over 1 billion records, making Kanye harder, better, faster and stronger all at the same time.
After this, he continued his career by making more hit classics such as Gay Fish, I'm Really Happy For You And I'm Gonna Let You Finish and I Am A Musical Genius.
Then he interrupted Taylor Swift and now everyone hates him. Which is unfair, because everyone knows Beyonce had the greatest video OF ALL TIME!!!
Now he's a Nazi.
After this, the romantic-comedy-action-horror-thriller series South Park published an episode of their show in which Kanye is exposed as being a gay fish. The episode was seen by millions of Kanye fans. The pressure of being in a TV show caused Kanye to confess that he is, in fact, a gay fish. Surprised? No. He also revealed his shocking abnormal secret that he is an entrepreneur of fishsticks and eats them on a regular basis. He also admitted tha-
Yo, Illogicopedia, I'm really happy for you, but I'm not gonna let you finish, because gay fish are more important than Illogicopedia articles.
Here are some of the fictional, no real, no fictional, no real, no fictional, no real, no fictional, no real, no fictional tweets by k. West Dizzle.
YO TWITTER IMMA GONNA WRITE A DOPESTS SONG CHEKZ IT!
YO I JUST WOKE UP
YO TWITTER IMMA GO WALK MY DOG THEN RECORD AN AWESOME DOPE SONG FOR ALL MY FANS
YO TWITTER IMMA GO EAT CEREAL THEN RECORD AN AWESOME SONG. THANKS FANS
THANKS FANS. I COULDN"T HAVE DONE IT WITHOUT YOU!!! YEAH!!!!
JESUS LOVE GAY FISH YO!!!!!
KANYE 2024