List of lesser known Scrabble words
Jump to navigation
Jump to search
"QWYJIBO: un gros et obès singe nordaméricain"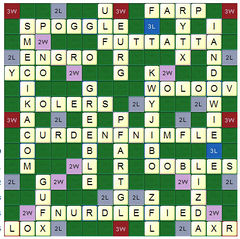 The List of lesser known Scrabble words is an article on Illogicopedia. You are looking at it right now. It contains a list of words permissible in Scrabble games according to the Illogidictionary but whether the official dictionary accepts them is another matter.
However, the author is aware that hardly anyone pays attention to the Scrabble dictionary as many of the words contained within its pages are fabricated and nonsensical: take the examples of ZZZ, QAIDS and SANITY. Of course, should any of these words be used the player is immediately disqualified.
Usage of these words is licensed under the Use of Made Up Words Act 1982.
The author cannot be held responsible for people who may punch you in the gut, face, butt, shin or kidney as a result of playing these words. In general, please avoid playing Scrabble against such characters, namely ₣, ₢, ‡ or ₪.