Illogicopedia
:
Politics
Jump to navigation
Jump to search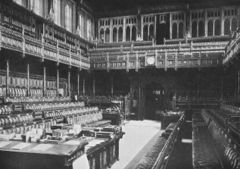 Order, order! The House of Illogia shall come to order.
The House of Illogia is a place where Illogicopedians can discuss pressing issues of the day in a civilised, jovial manner bicker and backstab no end.
It is the job of the Lord of Commons to keep the House in order. This involves actively avoiding conflict and encouraging civilised conversation. However, it is taken for granted that civility is not always exercised.
The current Lord of Commons is the Rt. Hon Kippers, voted by 3-0 in Arply 2008
Note: for a more detailed summary of the parties, see Illogicopedia:Political Parties
Following is a brief summary of the current political parties and their representation in the House as of Arply 2015.
There are also the parties of the Opposition of Off Tropic, which opposes
To join a party add your name to the members list on the appropriate party page
Each party has its own characteristics and behind the scenes operation
You may choose to be a 'crossbench' politician and ally with more than one party