Pie
Jump to navigation
Jump to search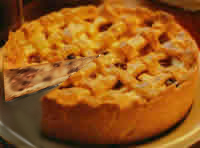 PIE!
PIE!
Pie.
Pie is available in many flavors, including chocolate, Mc. gyver, cherry, orange, mint, meat, pie, fruit, horse manure, banana, apple, cookie, cheese, fish, pizza, robot, Office word 2007 and ham.
Everyone loves pie. But it can lead to obesity. This is why everyone is fat. Delicious pie. But the pie knows more than it lets on; watching, always watching with its mocking eyes. Watching as we gorge ourselves and become fat and stupid, waiting for the right moment to unleash its hidden armies of bees! No-one will know we have angered the pie until the bees are in charge! It's not even safe to talk abou- Bzzzzzzzzzzzzzzzzzzzzzz.
"Pie is good eat pie Pie is good eat pie Pie is good eat pie Pie is good eat pie"
THREE POINT FOURTEEN, THREE POINTS FOURTEEN, THREE POINTS FOR TEEN THREE POINT FOURTEEN HAS NEVER BEEN SO YUMMY BEFORE
And remember kids, don't eat pie (they got feelings as well, you know)
In other words: Kids must have pie to survive, seven out of six doctors recommend at least one medium sized slice per meal.
Pie-ay-ay-ay! The Anti-Cake Action is taking inaction! Pieletarians of Illogicopedia divide!
Mathmatical properties
[
edit
]
Main article: Three

Three is a number that can mean Pie, Six, or Twenty. Most people prefer it to mean one more than two, but we here at Illogicopedia believe it means Pie. Three is brought into existence as a Natural number.
Pie also
[
edit
]