Brawndo
Jump to navigation
Jump to search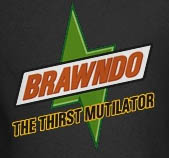 BRANWDO!
IT'S A MONSTER TRUCK YOU CAN BAR INTO YOUR FACE!
FIGURATIVELY!
IT'S GOT ELECTROLYTES!
WHAT ARE ELECTROLYTES?
I DON'T KNOW BUT THEY'RE EXTREMELY AWESOME!
AND BRANWDO IS FULL OF THEM!
AND THEY'RE WHAT PLANTS CRAVE!
WHICH IS WHY YOU SHOULD DRINK BRAWNDO AND NOT WATER,
BECAUSE WATER COMES FROM THE TOILET AND I'VE NEVER SEEN PLANTS GROW OUT OF A TOILET!
...has anyone got a Strepsil?