Frank Sinatra
Jump to navigation
Jump to search
"I did it my way"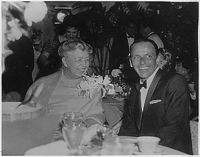 Francis Albert "Frank" Sinatra (aka Ol' Blue Eyes, The Chairman of the Board, The Voice, Frankie, Francis, Francis Albert, and Taio Cruz) (MCMXV-MCMLXXXXVIII) was a Liberal performer who recorded crappy albums on things like New Yawk. He also liked Presidents, First Ladies, and the fake sport Bowling (he achieved a high score of VIII), and singing like he was drunk, was high on acid, and had a hernia. That is how bad his music was. He also was an enemy of God cause he did things His way, rather than obeying The Holy Book.
Sinatra sang like this
"NEEEEEEWWWWWWWWWWWWWWWWWWWWWWWWWWWWWW YAWK, NEWWWWWWWWWWWWWWWWWWWWWWWWWWWWWWWWWWWWW YAAAAAAAAAAAAAAAAWWWWWWWWWWWWWWWWWWWWWKKKKKKKKKKKKKKKKKKKKKKKKK! I'D WANNA FORNICATE ALL DAY AND SUCK THIS LITTLE LOLLIPOP I STOLE FROM MAH DAWTA!!!!!!!!!!!!!!!!!!!!!!!!!! NEW YAAAAAAAAAAAAAAAAAAAAAAAAAAAAAAAAAAAAAAWWWWWWWWWWWWWWWWWWWWWWWWWKKKKKKKKKKKKKK, NEEEEEEEEEEEEEEEEEEEEEEEEEEEEEEEEEWWWWWWWWWWWWWWWWWWWWWWWWWWWWWWWW YAWWWWWWWWWWWWWWWWWWWWWWWWWWWWWWWWWWWWWWWWWWWWWWWWWWWWWWWWWWWWWWWWWWWWWWWWW......K."
He also ate kids meals.