Barack Obama
Jump to navigation
Jump to search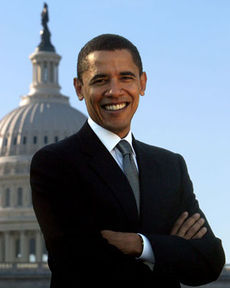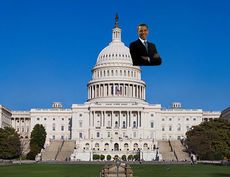 Barack Obama, also known as Barack Osama (stupid terrorist) is the elected 44th President of Super America[1] after it was deemed he was too superior for America[2]. Barack not only made history in being the first black president[3], all previous presidents being dead, he was also given complimentary chocolate mints, a pack of popcorn and a can of lobster bisque soup[4] - to try and cover up the fact that Super America has no friends and no power in the world[5]. Obama's administration took out Bin Laden in 2011, with the tactic of telling the infamous terrorist that "you can stop hiding now, you won the game" proving successful.
Technically, Super America's just an office above an English pub in Chicago.
One day Barack Obama stole a banana, then he met the dalai lama. The dalai lama explained about karma, gave him a llama and made him return the banana back to the banana farmer called Osama. Barack Obama gave back the banana, ate the lama, then watched futurama.
He's making some nice changes though. Apparently he just got in a new arcade machine[6].
"It's the truth!"
"Change! Yes we can!"
"Barack HUSSEIN Obama, More like Barack INSANE Obama!"
See Also
[
edit
]