𝔤𝔞𝔯𝔶 𝔦𝔫𝔡𝔦𝔞𝔫𝔞 𝔣𝔞𝔫 𝔞𝔠𝔠𝔬𝔲𝔫𝔱
Jump to navigation
Jump to search
I bungeed off a fart!

—Arin Hanson, "I CANT UNDERSTAND YOU - Ten Minute Power Hour"
My wish is that you may be loved to the point of madness.

—André Breton
He started life as a handbag! Was told he'd never walk again!

—the turkey dude from animalympics
SEMI-RETIRED
This user is no longer very active on Illogicopedia.

potty racer is and always will be the best flash game dont ever @ me
---
---
---
<--- i agree with this video (fun factor increased when played at 0.25x at the beginning; alternatively you can play the whole thing at 2x speed)
---
---
<--- mood
---
life update part 8378 lmao: ough i keep forgetting to do this luh mao. so imma be honest, i've been kinda wanting to write on ?pedia a bit again, but unfortunately pretty much all of my writing has been for classwork or music. which i mean, i do wanna focus on those, but not really being able to do anything here kinda sucks. i figure i might be able to do something like "I'm floating on the banister" seeing that i have my computer in my room most nights, but we'll see i guess. anyways, i kinda don't wanna retire outright cause i do wanna write, and also one less admin in case Things Happen would be sucky. idk, i just wanted to update, one of the few times i'm on here these days.
Sylvester Gold is a Fruity Little Fairy! 05:07, 7 Yoon 2023 (UTC)
Who says you have to "follow the rules" to be successful? Who says you can't have a job doing whatever the hell you want?
Sylvester Gold is a Fruity Little Fairy! 21:10, 20 Jeremy 2021 (UTC)
My dad, that's who. *rolls eyes*
my yt channel
I used to be 80GallonsOfGas, but I've decided to use Senny as my main account. YFNLF is my pet sock, so be nice please. Also, I've been here since 18 Ditzimber 2018. Wow, time flies. You can call me senny, sylvester gold, flaming hippie, whatever you want; i use he/him/his and they/them/theirs. I like listening to music, watching sports, drawing, writing (songs too), singing and thrifting. I collect records, tapes and CDs too, check 'em out here. anyways, i'm queer as shit, too. my pronouns.cc is here ; he/they it pronouns, peas and tank you.
I have a WP account, [redacted], but I've left WP long ago. I'm also on Wackypedia, both miraheze and risteq.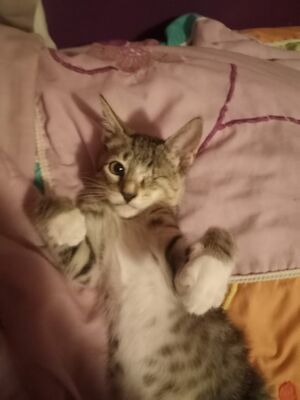 ...and i may or may not have escaped from the base of mental unhealth. Wait, what? I didn't say anything, what are you talking about?
(stolen from my user infobox on my WP userpage haha)
|birthdate= Midnight Memories (the album) was released on my tenth birthday. do the math.
|birthplace= a coastal city somewhere in the carolinas. ... yes, i'm southern. and what about it?
|alignment= Chaotic good
|religion= Pastafarian
|music= literally anything and everything, with like a few exceptions ofc

Categories on this page: 470 i think?
| | |
| --- | --- |
| | This user is member of the sex most often chosen to play the role of the Frankenstein monster in films. |

This user has tamed the mighty Bcbkye. Fear them, for they now know all your secrets!
| | |
| --- | --- |
| | This user desires nothing more than to destroy all people who wish to destoy all ducks. |
| | |
| --- | --- |
| ☮ | This user believes in peace and love. |
| | |
| --- | --- |
| | This user has been on Illogicopedia for 4 years, 11 months and 7 days. |
| | |
| --- | --- |
| | This user is very fiery. In more ways than one. |

This user is a winner of the Illogicopedian of the Month award.
| | |
| --- | --- |
| MKW | This user has earned all gold trophies in every cup in Mario Kart Wii. (Except for two - silver in Mirror Special Cup and bronze in Mirror Lightning Cup) |
(っ◔◡◔)っ ♥ 𝐚𝐧𝐝 𝐧𝐨𝐰, 𝐜𝐚𝐭𝐞𝐠𝐨𝐫𝐢𝐞𝐬 ♥
[
edit
|
edit source
]
‎‎‎‎‎‎ ‏‎