World-wide Mad Deadly Communist Gangster Computer God
Jump to navigation
Jump to search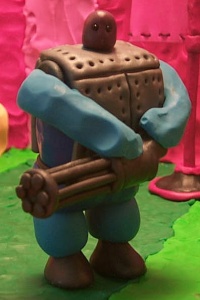 The World-wide Mad Deadly Communist Gangster Computer God (WWMDCGCG for short), also known simply as the Computer God, is a god...
Omnipotent, omniscient and omnivorous*.
In control across the entire face of the Earth.
Always angry, deranged, or both.
Gradually rendering people worldwide dead or useless through systematic butchery.
Espousing the beliefs of Communism, most likely of a Stalinist variety whereby party control is centralized in itself.
Every time he sees a ghost, a kid in Africa dies.
Chief of its own gang of Mafioso-like Hangman-rope Underlings, Trained Parroting Puppet Assassins, Frankenstein Slaves, Gangster Slaves, and Playboy Scum-On-Top.
Consisting of a machine not only artificially intelligent, but also intelligently artificial. Its intelligence is so superior to ours that it is capable of supra-luminal speed, via Nucleonic Power.
He has a machine that when you look at it, you die. Then he uses his Flammable Appendage Ramming Tube (F.A.R.T) to blow gas in your face.
Possessing limited edition† lava appendages.
This has absolutely nothing to do with the article.
Neither does this.
*Moose are eaten by this fiend. It also likes cheese!!!!!!
† 1/600 chance of selecting one of them from the market shelves.