Forum:Illogicopedian of the Month
Jump to navigation
Jump to search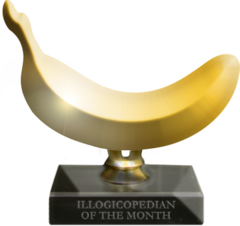 The Illogicopedian of the Month award covers article writing ability but also encompasses all other aspects of Illogicopedian culture.
Until the last day of Ergust, users may vote and/or nominate a user which they feel has made significant contributions to the wiki this month. Contrary to popular belief, a single user can win the award more than once. In other words, who has made you laugh the most in the last few weeks? Who has impressed you most with their wiki coding? Who has been most proficient in reverting vandalism?
Oh yeah, and don't vote for someone just because they're your mate or something. They have to, you know, deserve a Golden Banana. From doing good stuff.
We ask those who didn't win to console themselves in the fact that there is always this month. But congratulations to our latest winner of the Illogicopedian of the Month award, THE, who received the rather amusingly (and tastily) shaped trophy to display on their userpages forever!
Awards!
As well as being named the Illogicopedia Writer of the Month, winners will receive:
Past winners of amazitoode
See here for all winners of this award.
Votin'
VOTING REGULATIONS

There is voting currently taking place below this template, So here are the voting basics:

Users are permitted one vote each.
Please clearly state whether your addition is a for, an against or a comment.
Remember to sign and to update the vote count.
Nominations count as a vote for unless specified as "Neutral" or "Against".
Take care not to overdo self-nomination.
If you wish to change your vote, then cross out the previous using the <s> tags.
Frog-infested pineapples are not allowed in the voting area until they have been de-frogged.

Click here for more details




Official nominations for February
Score: 1
Nom4 - For the fastest admin-get since the wiki launched in 1983. My hands are officially alcoholics. --(ƒî)» 03:51, 7 Farbleum 2011 (UTC)
Four. I'm biased though, and don't know the other people. Do you all have wings here? Aleister 14:00 7-2-'11
Against. I am sick of this overachiever winning IOTM and becoming teh adminz and getting nominated again for IOTM. You haven't even been here that long! You haven't written any articles in I don't know how long. You criticize me for my patent nonsense and Danespeak. And you are a fat hippo. Sorry, I can't have you outdo teh adminz who have actually been here more than 5-6 months. What's next, next week you're gonna be a crat? Take this vote and shove it, you, you HIPPO! But seriously, 2 IOTMS and adminzship is a bit too much for the work you've done so far. Maybe in a few months. But you're probably gonna win and my vote will mean absolutely nothing, so feel free to completely disregard it if you wish.--Colonel Sanders/Colonel Battaleaxe 14:40, 7 Farbleum 2011 (UTC)
Against Per Colonel. Sincerely, islandmonkey - go speak 15:49, 7 Farbleum 2011 (UTC)
FOR T'is a bit cliché (its totally not) to win it so often, but like, you are the only real admin that actually admins and t'ing. Fileing away our various files and making Seppy cheese toasties to prevent him erupting in a murderous rage and killing us all with a slight turn of his flipper, so for that, and for pidgeons outside my window everywhere, i reckon you should get it. Testostereich • (ballsack) 09:54, 13 Farbleum 2011 (UTC)
For the record, I've not actually been that active, haven't had the will to write a damn thing, hate you all, and... er... wait, what? I mean... er... tofu! *hurls tofu every which way and runs away* ~ 01:54, 15 Farbleum 2011
Score: II
This is outrageous! You're not using IOTM properly! Sincerely, islandmonkey - go speak 16:04, 2 Farbleum 2011 (UTC)

He is, in fact, using it quit Nerdily. Allow me to demonstrate

Thank you. Why are you upset about the nom, Berty?--Colonel Sanders/Colonel Battaleaxe 15:09, 3 Farbleum 2011 (UTC)
For. He removed his own nomination. I love it, but not enough to leave it removed. *whistles innocently* ~ 03:01, 4 Farbleum 2011
Aye Thou hast brought the Roman template!--Conservatism II XXII MMXI
Score: 1
He's been pretty lovely of late, but he's still Nerd, or something. Nom and against. ~ 16:37, 2 Farbleum 2011
For The rest of you aren't even dots on my radar. Dexter111344 14:45, 7 Farbleum 2011 (UTC)