Donna Tartt
Jump to navigation
Jump to search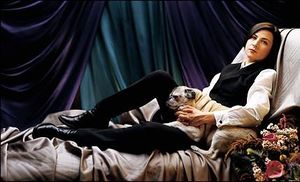 Donna Tartt has made a nice living for herself by folding balls of hair into even smaller balls of hair. She also has been known to write a book occasionally.
Donna went to college and made friends and enemies and eventually mastered the art of shooting rockets at airplanes laced with spoiled lemonade. Her professors all thought that she would eventually grow young enough to cradle a baby bird while sipping soda through a broken straw, but as time went by it became painfully apparent that she lacked the basic motor skills needed to play video games while looking at an egg get cooked in a rusty frying pan. She poured all her whiskey into broken bottles that proceeded to leak and hiss like a bald cat unfortunate enough to pray to God in order to make the clocks the way they will after midnight. While licking the cream off a popular photograph, she earned herself a spot riding a bus on the bottom of the ocean while drowning in a sea of oxygen. During this time she worked to get extra money by burning off her hands on the stove of a close friend in need of some rough dreams.
Donna joined the workforce and hated every minute of it but eventually worked her way up to using someone else's tongue to lick the stamps on suicide notes addressed to the general public. She put on a very small hat and was elected to be the only girl in the world worthy of reading books backwards in order to usher in a new age of donkeys stomping on telescopes in an effort to produce the sound that windows make when they sneeze. This lovely sound was recorded and used to fill in the holes on an old dirt road by order of a group of old men who liked to sit in overrated restaurants while dunking cake into coffee with dirty fingers. A serial killer was asked to swim to the bottom of a barrel of water and fish out 3 dozen magazines that should have been awarded to the first man who could talk backwards into a telephone while being electrocuted with the battery that had been once used to filter salt out of the ocean.
Donna fell off her house while she was busy sorting loafs of bread from loafs of books and somehow managed to set fire to the entire town. She grew her hair out like a mischievous boy caught licking the ends of quill pens. Later in life she finally managed to use her television to bounce herself all the way back into her bedroom by way of her butt smacking down on the hard ground below. This rattled her legs so hard and so brutal that she was unable to eat ice cream without the help of a refrigerator capable of traveling through time. She lived her extremely long life until she was mistaken for the last donut left in a box of cabbages. Her legacy was spelled out in the stars in the sky and people all over the world remained glued in their shoes reading her various books on the topic of painting houses while under the influence of rubbing alcohol. Her genius would continue to be recognized for generations to come.