Forum:The Illogic Pickle 2.2
Jump to navigation
Jump to search
FINALLY, THE RESULTS ARE IN!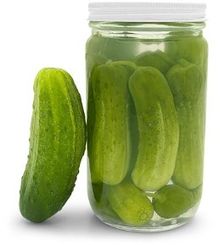 It's what the world's been waiting for... the Pickle results.
As usual, the pickles were judged in two categories:
Best Straight Article. The most accomplished rambling for which the prize is a pickle in a jar. Runners up get a helping of sauerkraut each, frankfurters not provided.
Best Randumb Article. The article that is most random and makes least sense, for which the prize is an inflatable hammer. Runners up get a clove of garlic each.
The pickle was judged by Silent Penguin, Hindleyite and T3canolis. Apologies for the procrastination on the judges part this time round - our excuse is, erm, real life. Plus recent inactivity in the chatroom has meant finding a third judge was hard - nothing to do with lazy judges at all. Ooooh no. Also thanks to T3, making his judging début on the Pickle!
Yeah, yeah. What about the resultados?
[
edit
]
I'm getting to that.
As ever, don't worry if you didn't win. All the entries were good and a lot of them VFF-worthy, it just so happens that only one (er, two) can win and you were the unlucky one this time round. We anticipate that the next Pickle won't be until next year but there'll be plenty to keep you occupied in the meantime - you'll find out about that soon enough.
All articles are now unlocked and can be edited once more.
And... without further delay...
Results
[
edit
]
The Peekle

[

edit

]

Winner:
Lightbulbism by THE
Runner up:
Digging A Hole by Testostereich

The Inflatable Hammer

[

edit

]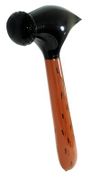 Winner:
Pickle entry by Some WHAT!? number two
Runner up:
A Very Randumb Article by Dxpenguinman
Honourable Mentions

[

edit

]
The Mysterious Mystery of the Not Chinese Chopstick (HelloolleH)
Caleb McDondelev and the charcoal molasses (Fonchezzz)
The Pickle (21655)
Entries
[
edit
]
User:Testostereich/Digging A Hole - Yay, it's over. Phew, that took me almost 3 hours to polish off --Testostereich • (ballsack) 10:53, 12 Jumbly 2008 (UTC)
User:Fonchezzz/Caleb McDondelev and the charcoal molasses---Still haven't won..... is this my fourth contestant?--|Fonchezzz| Quacking

|

23:47, 17 Yoon 2008 (UTC)
User:Dxpenguinman/A Very Randumb Article - My first try at this pickly thing. Don't pickle the pickle. -- Dxpenguinman, the Penguinman ...He's e-vile! • Talk • Got An Idea? • GAMESHOW!
User:MrMetalFLower/My Not-So-Super Sweet 16 - J'ai fini! I swear only Testicles has ever won this. :P
User:Thekillerfruitcake/Fruitcakes --~~~~ 15:11, 18 Yoon 2008 (UTC)
User:Some WHAT!? number two/Pickle entry Mah pickle.

Some

W

H

A

T

!

?

(talk) (contribs) (edit count) 16:41, 24 Yoon 2008 (UTC)
User:THE/Lightbulbism - All finished now. --THE 19:22, 28 Yoon 2008 (UTC)
User:21655/Pickle - My borked version of pickled barf. I at least hope I get second place or something (preferably first). (This is a straight pickle, by the way.) 21655 {screwed up / fixed your crappy grammOr / is made of beef, apparently} 16:09, 4 Jumbly 2008 (UTC)
User:MathPoet/A fine mess: the beginning - shaken, not stirred. --MathPoet 16:38, 5 Jumbly 2008 (UTC)
User:The Divine Fluffalizer/Nose Pockets And Their Omnipotence (to be filled in when done) – a small treatise on the infinite power that can be reached through your olfactory apparatus. --Fluffalizer 23:29, 8 Jumbly 2008 (UTC)
User:HelloolleH/The Mysterious Mystery of the Not Chinese Chopstick (It's not finished)
User:Ragglefraggleking/Poopie In The Cookies- One of my final works. - 15:19, 10 Jumbly 2008 (UTC)
User:TheBladester/Pickul I didn't bother to make a real one so i stole mighty boosh stuff insteadUser:TheBladester/sig 21:23, 11 Jumbly 2008 (UTC)
User:TaylorKarras/Black page Mostly I had an idea but I found a similar one exists, so now it's a pickle. --Taylor Karras 04:44, 14 Jumbly 2008 (UTC)