Ohayo
Jump to navigation
Jump to search
Ohayo is a Steak within the Untied Steaks. It is known for being extremely kawaii, hentai, sugoi, and anime.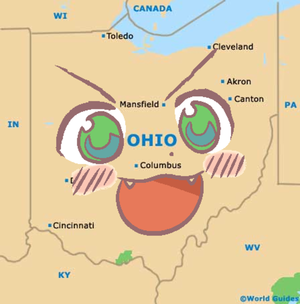 Ohayo borders on Penicillin, Western Virgins, Ken Takitsu, Indy Andy, Michijou, Spooky Lake, and Konata. It has two big mountains in the middle but is generally flat in the periphery.
Under the Keep Up Sugoi Ohayo act of 1988, Ohayo's state government exiles to Connecticut upwards of 17 people a year for crimes such as "not being sugoi" and "having a shit waifu". Possession of NTR has recently been decriminalized for up to an ounce. While the Democrats and Republicans hold sway in Ohayo politics, as the do in the whole nation, the single-issue Flat Party and Plot Party have both seen significant success within the state.
Ohayo's most notable sports team is the Gozaimasu Genki Girls. Real fans bring their body pillow of Kamigahara Nadeshiko, the team's official mascot. It is customary to let her partake in one hot dog.